M&S performs well in H1; ties up with Richard James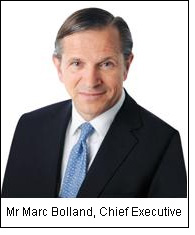 Marks & Spencer announced its half year results for 2011 – 2012.

Half-year results:
• Group sales ex VAT up 2.4% at £4.7bn
• Like for like UK sales ex VAT +0.5%:General Merchandise -1.3%;
• International sales ex VAT +9.0%
• Underlying profit before tax1 £315.2m (last year £348.6m)
• Profit before tax £320.5m (last year £348.6m)
• Underlying basic earnings per share 15.6p (last year 16.6p)
• Basic earnings per share 16.0p (last year 16.6p)
• Interim dividend 6.2p per share (last year 6.2p)
• Net debt £1.97bn (last half year £2.2bn)

Operational highlights:
• In General Merchandise we invested in offering customers better value in a highly promotional market
• Maintained market share in Clothing and Food despite tough comparatives
• Managed our cost base tightly
• Delivered more choice in stores through innovation:
• first ever fast fashion collections introduced in M&S Woman
• M&S Direct sales up 11.7% with over 3 million visits per week
• International sales up 9% with strong LFL growth in key markets
• Good progress with supply chain and IT programme implementation

Progress against the three year plan
• Launched new 'Only at Your M&S' ranges including
• New Conran and Marcel Wanders collections in Home
• New store segmentation and in-store presentation pilot launched in 15 stores
• M&S brand and all clothing sub-brands re-launched
• French shopping website now live; new Paris store opening before Christmas
• Style Online multimedia shop trial now in 3 stores
• Exclusive new menswear collaborations announced today with Richard James

Marc Bolland, Chief Executive, said:
"Marks & Spencer performed well in the first half. Sales were ahead of last year despite tough comparatives and a challenging economic environment. Our Food business in particular performed strongly. We maintained our share of the Clothing and Food markets.

"In an increasingly promotional environment, we managed costs tightly and took a decision to invest in giving our customers better value, choosing not to pass on the full extent of the increases in commodity prices.

"Against a challenging consumer backdrop, we took decisive action to manage the business through the short term while continuing our focus on investing in creating a stronger platform for future growth.

"We have a very exciting Christmas product offer for our customers with more innovation and choice than ever before."

Current trading and outlook
The second half of the year has started in line with our expectations. We will continue to manage the business for a challenging environment with particular focus on offering great value to our customers and tight control of costs and stock. We remain cautious about the outlook but are well set up for the all important Christmas period.