Bali One Smooth U Powershape with LYCRA beauty fabric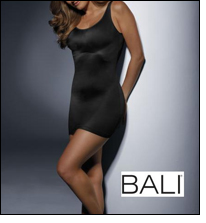 Women across the United States can now take their ready-to-wear from now to wow with the introduction of the new Bali One Smooth U Powershape collection with LYCRA beauty fabric.

A lingerie-inspired shapewear line pairing elegance with comfort, the One Smooth U Powershape collection feels nearly weightless and is available in a variety of options that help whittle the waist and flatten the tummy, slim the thighs and smooth lumps and bumps. Designed with LYCRA beauty fabric, a lightweight and luxurious technology, the One Smooth U Powershape collection provides optimal results with a feeling of beauty and glamour.

"This is not your mother's shapewear," said Lisa Boecker, director of marketing and merchandising, Bali Shapewear. "Women should check out the lingerie department. The innovations in shapewear from Bali, made with LYCRA beauty fabric technology, are lighter, silkier and more comfortable, providing the smoothing and shaping properties women want without sacrificing comfort."

Shapewear: Confidence Booster & Secret Fashion Weapon
In a new survey conducted by Bali Shapewear and INVISTA, owner of the LYCRA beauty fabric brand, women identified comfort (64 percent), how much better shapewear makes them look (52 percent) and lightness/thinness of fabric (45 percent) as the most important factors when purchasing shapewear.

Addressing all of these aspects, the One Smooth U Powershape collection slims and smoothes in all the right places, creating a fabulous shape without sacrificing comfort or confidence. The LYCRA beauty fabric comfortably moves with her so it feels less like body armor and more like a second skin.

While diamonds might be a girl's best friend, women identified shapewear as their secret weapon to looking slimmer and feeling more confident (79 percent). An overwhelming majority identified problem areas as the stomach (88 percent), followed by thigh, hips and derriere.

Advancements in Shapewear
Interestingly, most women surveyed indicated they wear shapewear, but some skip it because they think it needs to be painful to work. And, over one-third of women haven't been able to make it through the day without taking their shapewear off in interesting locations such as a restaurant restroom, at a wedding, in their car or at the office.

"At Bali, we believe looking your best and feeling confident begins with the right foundation," said Boecker. "The One Smooth U Powershape collection is a combination of modernity and elegance fused together with comfort and support. The result is a collection that works hard on the inside so she can look and feel her best on the outside."

Bali One Smooth U Powershape Collection
The Bali One Smooth U Powershape collection with LYCRA beauty fabric includes five sleek pieces that perfectly complement any outfit:

• One Smooth U Powershape Cami: Fused-panel technology with targeted control to provide a seamless, smooth shape while wide straps offer all-day comfort. This stylish cami takes her straight from the office to a night out on the town, smoothing out any puckering on a crisp button-down shirt, as well as enhancing her silhouette in figure-fitting tops and flouncy blouses.