Much awaited Versace for H&M collection launched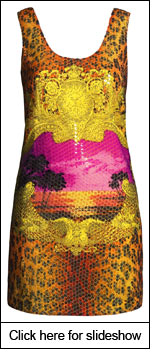 After much anticipation for its arrival, the Versace collection for Hennes & Mauritz AB (H&M) was finally released. Launched globally at 8am for VIP and the media, the collection will now be available at the Dubai Mall, Mall of the Emirates, around 300 stores worldwide, as well as on-line. The line debuted at a major fashion show in New York on November 8th and was attended by several celebrities, along with performances by Prince and Nicky Minaj.

Full of the pieces that have made the house of Versace legendary. Dominated by colour, print and cut, the brand's creative director Donatella Versace has gone back to the archives to bring some Versace classics to a whole new audience. Iconic dresses are the focus of the women's collection, while menswear is centered on sharp tailoring. Also for the first time an H&M designer collaboration will include homeware pieces, reflecting Versace's influential home designs..

"The collection for Hennes & Mauritz AB (H&M) is the essence of Versace. For the collaboration we've brought back from the archives, as well as from more recent collections, some of the icons of Versace, such as the bright prints, the Greek key and daring cuts. I can't wait to see how H&M's wide audience will make these pieces their own." Donatella Versace.

"Versace's collection for H&M is a moment in fashion. It is full of strong pieces that stand out, with colours, prints and cuts that are clean and precise. The women's collection is flattering and full of dresses, while the men's collection is very sophisticated. When I think about Versace I think of iconic items. With this collection for H&M we've got the essence of Versace." Margareta van den Bosch, creative advisor at H&M.

Versace's collection for H&M includes many of the iconic designs. For women, a classic black silk crepe dress has gold Grecian buttons on its patent straps, while the flow of a floor-length goddess gown is balanced by boning in the bodice. For night-time shine, multi-colour sequin dresses are covered in archival Versace prints, short metallic dresses come in either silver or gold, and strong colour shift dresses are embellished with studs in classic Greek motifs.

For H&M, Versace has revisited some of its most famous prints, which for women are used on pieces such as dresses, short pleat skirts, velvet bomber jackets, leggings and jeans. Meanwhile the importance of leather for Versace is reflected in leather jackets that come decorated with gold studs and zips. Accessories include a high- heeled laced boot and a studded suede high-heeled sandal, along with studded leather bags as well as velvet bags covered with the Miami palm print.

Versace's men's collection for H&M is a mix of slick tailoring and pieces of extravagant pattern. Suit jackets and trousers come in either black or pink, while a black tuxedo jacket has metallic tip trims on its pockets, and shirts have metallic wing-tips on the collars. Versace's palm and optical prints are used on T-shirts, as well as on thin-knit cashmere sweaters, while print is also used on velvet bombers, jeans, and even underpants.