Munich Fabric Start with 'Shirtings'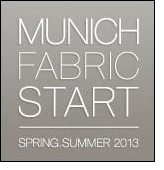 The next Munich Fabric Start is more or less just around the corner. The event for the 2013 Spring/Summer season held from 31 January to 2 February 2012 is already fully booked. Organisers expect 800 exhibitors from over 35 countries to showcase apparel fabrics from natural and synthetic fibres for women's, men's, children's wear, denim and sportswear as well as additionals and accessoires. The last trade fair was attended by around 17,000 visitors from throughout the world.

News Munich Fabric Start
Green Deal. Some time ago MFS already committed itself to the Green Deal. This means MFS supports the sustainability theme and textiles that are safe for both ecology and human health. As part of the Organic Selection segment in excess of 400 certified fabricss will be on display. Recognised experts will offer visitors services and provide assistance with sustainable sourcing.

The Eco Village pools expert knowledge at the highest level. Leading international certification bodies and organisations such as IMO, IVN, bluesign, Made-By, Textile Exchange and Ceres will be available with help and advice. This means further expansion to the platform and a more compact location at the Eco Village.

Shirtings. For the forthcoming trade fair Munich Fabric Start will install a new platform for the suppliers of high-quality shirting fabrics: Shirtings by Munich Fabric Start. Presented here will be the likes of Testa, Leggiano, Getzner Textil AG, Brennat AG, Söktas, Virtuose and Bossa in an exclusive stand system with high-quality furniture in Hall 4 of the M.O.C. The trade fair awaits a total of 20 selected suppliers.

News Blue Zone
From 31 January to 1 February 2012 around 80 international denim experts will present the latest developments for the 2013 Spring/Summer season at the Blue Zone in the Zenith Halle; over and beyond this they will already display initial trends for the 2013/14 Fall/Winter season as part of the TIST (Today is Tomorrow) feature. The Green Zone bundles innovations in the segment of environment and health-saving denim production.

New Area: R.M.S. Speed and flexibility are compelling arguments favouring Europe as a manufacturing base. More and more denim manufacturers are investing in development, design, laundering and finishing. Our response to this is the new platform R.M.S. Ready Made Solutions. As part of the next Blue Zone we will for the first time be presenting finished full-purchase products from our exhibitors in a compact format, exclusively at the Zenithhalle.

Trend Forecast
Our trend scout Joachim Baumgartner has been out and about in search of the latest trends. And what he has found is a longing for things primitive, real and natural – but on a high level. Imagine indigenous people in green oases on an ultra-modern luxury yacht. Or cars that transpose the memories and nostalgia into our new era. Nostalgic Future. Contrasts such as those perfectly combined by Lanvin, for example: elegant but sporty, light but austere. Simplicity, naturalness, joy, clarity, brightness and optimism are the buzzwords for Spring/Summer 2013.