Kohl's first retailer to be named 'Green Power Partner'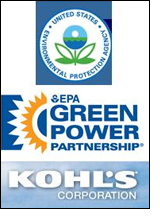 Kohl's Department Stores announced that the company has been recognized with its third Green Power Partner of the Year Award by the U.S. Environmental Protection Agency (EPA), the U.S. Department of Energy and the Center for Resource Solutions. With this year's award, Kohl's is the first retailer to be named a Green Power Partner of the Year for three consecutive years.

The award was given last night at the 2011 Green Power Leadership Awards held as part of the annual Renewable Energy Markets Conference in San Francisco, Calif. Green Power Leadership Awards recognize the country's leading green power purchasers for their commitment and contribution to helping advance the development of green power sources.

As a 2011 Green Power Partner of the Year, Kohl's has distinguished itself among U.S. companies through its green power purchase, leadership, overall strategy and impact on the green power market. In 2011, Kohl's purchased 1.4 billion kilowatt-hours (kwh) of renewable energy, offsetting more than 100 percent of the company's purchased electricity use.

According to EPA, Kohl's current green power purchase is equivalent to avoiding the carbon dioxide emissions of more than 192,000 passenger vehicles per year, or the equivalent carbon dioxide emissions from the electricity use of more than 122,000 average American homes annually.

Kohl's currently ranks number one on EPA's Top 20 Retail list and number two on the National Top 50 and Fortune 500(R) lists. The company joined EPA's Green Power Partnership in 2006 and made an initial purchase of more than 80 million kwh of renewable energy credits in 2007.

"Recognition as Green Power Partner of the Year demonstrates Kohl's leadership in the use and support of renewable energy as part of our commitment to being an environmentally responsible retailer," said John Worthington, Kohl's chief administrative officer.

"In 2011, Kohl's strengthened its commitment to the use and support of green power by increasing our total green power purchase by more than 52 million kilowatt-hours and purchasing enough green power to offset the purchased electricity requirements for each of our 39 new stores that opened in 2011. We were also pleased to add 16 new solar locations this year in addition to our first two wind locations, and we continue to explore additional opportunities to expand our green power and energy efficiency initiatives."

"EPA's Green Power Leadership Award winners are driving the development of new renewable energy sources and demonstrating that green power makes good environmental and business sense," said Gina McCarthy, assistant administrator for EPA's Office of Air and Radiation. "We applaud Kohl's efforts and hope that other organizations follow their lead."

Purchase of renewable energy credits is one key component of Kohl's ongoing efforts to implement strategies that encourage long-term resource sustainability. Other keyinitiatives include a companywide commitment to recycling and waste reduction, environmentally responsible building design, construction and operation, supply chain and transportation initiatives, stakeholder engagement and a strong commitment to energy efficiency.