Speedo unveils FASTSKIN3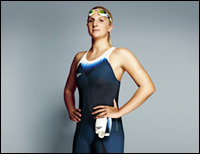 Speedo has secured full FINA (Fédération Internationale de Natation) approval for a world first concept to revolutionise the sport of swimming – a cap, goggle and suit engineered to work together as one revolutionary Racing System - offering swimmers a cohesive, hydrodynamic solution to cut through the water with maximum efficiency.

Unveiled during an exclusive global launch event, the Speedo FASTSKIN3 Racing System offers unrivalled benefits to swimmers, including a full body passive drag reduction of up to 16.6%, an 11% improvement in the swimmer's oxygen economy enabling them to swim stronger for longer, and a 5.2% reduction in body active drag, to create the world's fastest cap, goggle and suit ever.

With a distinctive and futuristic design that considers both the physiology and psychology of the elite swimmer, the Speedo FASTSKIN3 Racing System enhances hydrodynamic efficiency and comfort, while improving the athlete's focus to perform.

The result is Speedo's most advanced swimwear and equipment technology since the introduction of new FINA guidelines in January 2010, strengthening Speedo's world class reputation as one of the most innovative brands in all of sport.

Michael Phelps, regarded as the most accomplished swimmer of all time, has led plaudits for the concept, saying: "Speedo FASTSKIN3 makes me feel completely at one with the water. I feel confident, I feel comfortable and I feel like I am wearing the fastest."

While suits, caps and goggles are conventionally designed separately, Speedo has designed and engineered all three elements together to generate a unified system that works in synergy, incorporating many world firsts in swimming technology.

The Speedo FASTSKIN3 Racing System utilises a new anatomical marking system, 'Fit Point Markers', at strategic points across the cap, goggles and suit, which indicate how to align the Racing System accurately on the body to achieve optimum fit for the best performance. Intuitive IQ FIT technology maximises swimming comfort while minimising resistance and drag.

The Speedo FASTSKIN3 Cap is the world's first to feature IQ Fit Cap Profile, designed using accurate 3D head mapping data. Made to fit head and face contours exactly, it delivers optimum comfort, outstanding hydrodynamic performance and ease of use. When combined with the Speedo FASTSKIN3 Super Elite Goggles, full body drag force is reduced by 5.7%.

Swimmers with long hair can also benefit from the exclusive new Speedo Hair Management System, a bonded fabric cap with a non-slip edge that is structured to hold and shape longer hair to fill the gap at the curve of the neck so that it enhances the swimming form and improves hydrodynamics.

Designed utilising accurate 3D global head scanning data, Speedo FASTSKIN3 Super Elite Goggles deliver unparalleled accuracy of fit, leak resistance and comfort and redefine goggle aesthetics and technology. With unique IQFIT seal and strap and Dive Stream outer profile that improves the contours of the swimmer's head, localised force is reduced by up to 63.4%, minimising the risk of goggle movement during a swim. The goggles also feature a Hydroscopic Lens that offers 180° peripheral vision.

Leave your Comments
Recommended
Want to know what happened in the textile world this week? Watch now!
news category
---
Related Categories: