Apparel sales drop in Q3 - Dollar General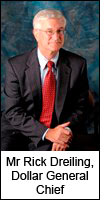 Dollar General Corporation reported financial results for its fiscal 2011 third quarter (13 weeks) ended October 28, 2011.

Net income was $171 million, or diluted earnings per share ("EPS") of $0.50, compared to net income of $128 million, or diluted EPS of $0.37, in the third quarter (13 weeks) of fiscal 2010. Excluding expenses in the 2011 third quarter of $0.9 million ($0.7 million, net of income taxes) relating to a secondary offering of the Company's common stock by certain selling shareholders and excluding losses in the 2010 third quarter of $8 million ($5 million, net of income taxes) relating to the early repayment of long-term obligations, net income increased 29 percent.

"Dollar General delivered another great quarter, and we expect to continue to build upon our strong track record of delivering excellent results for our shareholders," said Rick Dreiling, chairman and chief executive officer. "Our same-store sales increased 6.3 percent in the third quarter, representing our third consecutive quarter of accelerating same-store sales growth and demonstrating our ability to balance the challenges of pricing and rising input costs."

Based on these results, we are raising our full year adjusted earnings per share guidance to the range of $2.29 to $2.32.

"I am also pleased to announce that, given this continued strong financial performance, our Board of Directors has approved a new program authorizing the Company to repurchase up to $500 million of our common stock. We expect that any share repurchases would be carried out in a manner that will enable us to continue to invest prudently in our stores and infrastructure to support sustainable growth for the long term.

"For the holiday season and into 2012, we expect our customers to remain very interested in value and in ways to make their dollars go further. November sales were strong. Our Thanksgiving week and Black Friday sales suggest that we are well positioned to meet our customers' expectations."

Sales increased 11.5 percent to $3.60 billion in the 2011 third quarter compared to $3.22 billion in the 2010 third quarter. Same-store sales increased 6.3 percent in the 2011 quarter and 4.2 percent in the 2010 quarter, with increases in customer traffic and average transaction amount contributing to the growth in both periods. Consumables sales continued to increase at a higher rate than non-consumables in the 2011 quarter, with the most significant growth in candy and snacks, perishables, packaged foods, health care and pet supplies. Sales in the Company's seasonal and home categories reflected favorable trends in several departments, including hardware, stationery, sundries and domestics, while apparel sales decreased, in part, due to continued weakness in discretionary spending by consumers.

Gross profit, as a percentage of sales, was 31.0 percent in the 2011 third quarter compared to 31.4 percent in the 2010 third quarter, a decrease of 31 basis points. Cost of goods sold included a charge in the 2011 third quarter of $11 million to increase the Company's LIFO reserve. In addition, consumables, which generally have lower markups than non-consumables, continued to increase as a percentage of sales, and transportation costs were impacted by higher rates for fuel. These factors were partially offset by decreased inventory shrinkage, selective price increases and lower distribution center costs, as a percentage of sales.