Sales of all Lakeland branded product lines up in Q3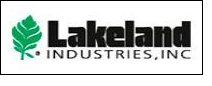 Lakeland Industries Inc. announced financial results for its third quarter and first nine months of fiscal year 2012 ended October 31, 2011.

Financial Results Highlights and Recent Company Developments
• 3QF12 revenues increased from prior year at most major international operations: Brazil, Canada, UK/Europe, Chile/Argentina, Russia/Kazakhstan
• International revenues set 3Q record at $12.0 million, up 26.3% from prior year
• Revenues from outside the US were 49% of total in 3QF12 as compared with 37% for 3QF11
• Reported results driven by growth from higher margin international sales would have been even stronger without impact of foreign exchange rates
• Foreign currency charge in Brazil in 3QF12 of $0.05 per share due to strength in US dollar (Brazil currency has not been hedged due to cost considerations)
• US operations gaining traction
a) Sales of all Lakeland branded product lines (excluding disposables which historically have been DuPont-related) to US customers increased quarter-over-quarter
b) Sales of low margin disposable products from DuPont decline significantly with licensing agreement phase-out nearly complete
• Gross margin as a percentage of revenues increased to 30% in 3QF12 from 28% in 3QF11
• Unprofitable India glove manufacturing subsidiary to be sold or shut down
a) Reclassified as discontinued operation
b) Financial results restated for prior periods
c) Recorded pre-tax loss on disposal of $880,694 for write-downs and other expenses
• Expense reduction initiatives at under performing businesses to be completed in 4QFY12/1QFY13
• Lakeland brand strengthened globally with investments in sales force and marketing campaigns
• Continued capital investments in Brazil and Mexico expands lower cost international manufacturing capacity

Management's Comments
Commenting on the financial results, Lakeland Industries President and Chief Executive Officer Christopher J. Ryan said, "We are pleased to report significant progress for our international expansion. Our international diversification initiatives are part of our overall strategy focused on building a global platform to deliver long term profitable growth. Important steps were taken both in our home market and abroad to bring us closer to realizing the potential of our global platform.

"Lakeland's international operations continue to increase on an aggregates basis as well as on a percentage of total sales. Despite a $0.9 million decline in direct shipments to our US distributor customers, we still reported the highest level of international revenues for the third quarter of fiscal 2012 at $12.0 million. International sales as a percentage of consolidated revenues in the third quarter reached a record level of 49%.

"We see vast opportunities for Lakeland around the world and have continued to invest to build out our platform. In the past two quarters alone, we made capital investments of about $2.9 million to expand our manufacturing and support facilities in Brazil and Mexico. The investments being made in our international manufacturing and sales and marketing activities provide the potential for significant operating leverage and margin expansion.