Dessy launches After Six at retail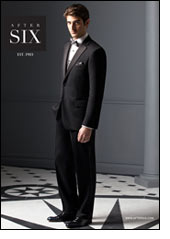 The Dessy Group is pleased to announce the launch of the first After Six tuxedo sold at retail in over 20 years. Smart Apparel U.S., a part of the Youngor Group, Ltd. designed and will manufacture the new 'Paragon' tuxedo, which Dessy will introduce at retail in spring 2012. Gentlemen may individually select their correct size in the separates as the coats and trousers are available in different sizes, allowing them to size perfectly "off-the-rack".

A pioneer in the tuxedo rental industry, After Six began in 1903 as a suit and overcoat business founded by Samuel Rudofker, a Ukrainian immigrant who cut coats in his Philadelphia row house. The Rudofker family led the way for making the tuxedo available for the masses – as a fashionable yet sturdy garment tailored for rental houses. Through its history, the brand's tuxedos have adorned Hollywood royalty and are known for evoking the message of personal and refined style for any gentleman.

The Dessy Group acquired the After Six brand in full in March 2011, after many changes in the tuxedo company's ownership and liquidation in 2011. The Dessy Group has been creating bridesmaid dresses as a licensee of After Six since 1997.

Utilizing its talented design team and remaining true to the After Six spirit, Smart Apparel U.S. created a modern classic in the 'Paragon' tuxedo components. With its two button notch lapel and wool fabrication, the 'Paragon' is a gentleman's perfect garment. The tuxedo is handsomely complimented with the color-coordinated collection of 'Paragon' men's formal accessories including ties, pocket squares, vests and more. Also unique to the 'Paragon' tuxedo is the 'bowtie and hourglass' patterned lining. Matching ties, pocket squares, vests, cufflinks and studs will be available in this new pattern in three color ways.

The tuxedo will be offered primarily through a new website, due to launch in March 2012, where visitors will find a timeline of archival images and historic ads from After Six as well as articles and information about current tuxedo trends and 'how-to' guides. The tuxedos will also be made available to over 4000 bridal retailers in the U.S. and Canada.

Marketing plans include a new ad campaign 'The Perfect Couple' which will be promoted in consumer print publications such as Martha Stewart Weddings and Brides.

With the newly launched After Six tuxedo, Dessy will continue to sell the After Six bridesmaid collection, bridal gowns and a convertible prom dress based on Dessy's extremely popular twist bridesmaid dress. Beginning Spring 2012, the entire wedding party will be able to dress in After Six apparel for Bridal, Tux and Bridesmaids.

The Dessy Group is a leading manufacturer of bridesmaid dresses, social occasion dresses, flower girl dresses and destination wedding gowns under the labels Dessy Collection, After Six, Alfred Sung, Lela Rose Bridesmaid and Sandals Destination Wedding Dresses.