5th All India Bodywear Meet gives a thumping performance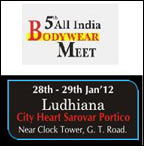 The fair at Ludhiana had an expectant air about it. Since the Bodywear brand wagon had a very successful show last year and the organizers and the participants were inundated with buyers from every nook and corner of Punjab.

Every fair is different and every venue has its own risk, which only an organizer can understand. With the backdrop of looming state elections when the government had declared 30th January as a state holiday where all commercial and retail establishment will be closed, for us it was some what of a dampener, the other challenge was to draw out the retailer and the buyer when there is an important festival like Basant Pachmi which is a leading festival up north which augments the fall in winter and giving rise to longer days and the summer is just around the corner. This leads to heightened activity in retail and the shop owners are busy to attend to the shoppers.

But the lure of 5th All India Bodywear Meet did ensure a steady flow of visitors, which seemed to increase with every passing hour as the show got on. Dealers and Distributors arrived from even smaller cities and towns like Faridkot, Phagwara, Sanhnewal, Gobindgarh, Abohar, Palwal, Kathial, Nabha, Sangur, Khanna, Apra, Panchkula, Sirsa, Kundanpura, Mausa, Talwara, Gurdaspur, Kotkapura, Bathinda, Jagraon, Dhuri, Patiala, Malerkotla, Hissar, Ahmedgarh, Moga, Hoshiarpur, and bigger cities like Jallander, Jammu, Chandigarh, Pathankort, Amritsar, Ambala, Ludhiana etc. Retailers like Kids Plaza (Ludhiana), Nirmal General Stores (Ludhiana), Peanuts (Ambala), Ganesh Hosiery, Sasti Hatti, (Jallander), Shivam (Ludhiana), Bodywrap Enterprises (Ludhiana), LDFO (Ludhiana), Jyoti General Stores, Mokshi, Kalyan Stores, Angels Dresses, Rita Dept. Stores, Moon Nite, (Ludhiana)

Overall the flow of buyers over the two days gave impetus to the summer booking which was happening quite briskly at Bodycare Creations, (Bodycare Panties and Bras) Bodycare International Proteens and Bodycare Kids), AKlass Fashions (Chic), KCJ Group (Zoom), Unique International (Kalyani), Neva Lingerie, Belle Lingeries, Pigeon Industries had a good turnout of buyers at their booth throughout the entire two days.

Mr. Hemant Jaiswal informed the Organisers that they are quite satisfied with the response and they have achieved their goals they had set out to achieve. Almost 60% of our distributors turned out here and gave us their bookings at this trade fair and we met some very important retail buyers as well, besides we have received some good institutional inquiries as well.

The point has been received quite well. Some of the first time participants like UV & W the manufacturers of organic cotton undergarments brought a new concept to fore in this exhibition.