Arena's Smart Cap wins prestigious red dot design award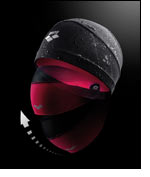 Global waterwear brand Arena's innovative Smart Cap has earned the esteemed recognition of red dot, one of the world's leading design awards. The Smart Cap won the red dot 2012 product design award , and was among 4,515 products submitted by 1,800 manufacturers from 58 countries around the world.

The Arena Smart Cap is a patented design, which features a revolutionary construction of an inner band and outer cap, created specifically for swimmers with long hair. The inner band keeps hair in place while pulling the cap on, obviating the need for elastic bands or clips, while simplifying the ergonomics of the process and speeding it up as a result. In addition to its functional properties, the cap is designed with Arena's customary Italian flair, adding an element of style to its innovative qualities.

The red dot awards are decided by a panel of 30 independent, renowned experts, who are luminaries in their respective areas of expertise. In February 2012 these experts converged on Essen, Germany from all corners of the globe to decide on 2012's best product designs, evaluating entries based on criteria such as degree of innovation, functionality, ecological compatibility, ergonomics, and durability.

The award will be celebrated on 2nd July 2012 at the red dot gala in Essen's Aalto-Theater, with more than 1,000 international guests from design, industry, politics and the media. The Smart Cap will also feature in the red dot design yearbook 2012/2013, in the red dot design museum, and in the red dot online exhibition.

"We are really pleased with this award," said Giuseppe Musciacchio, Arena's General Manager of Brand Development. "Arena has always been focused on innovation, not only in racing swimsuits, but in all our pool equipment. The Smart Cap is not only new from a construction point of view, it also changes the way the cap is put on and worn. In this sense it's revolutionary, and totally simplifies the way that long-haired swimmers prepare themselves to get in the pool. To be part of an innovation that reaches all swimmers at all levels is as important to us as equipping Olympians and world champions."

For over 35 years Arena Italia S.p.A. has equipped the world's leading swimmers and lovers of watersports with racing, training, and leisure swimwear and accessories built on a foundation of in-depth research, technical know-how, and an unyielding commitment to quality.

Arena Italia S.p.A.