InFashion 2012 show grows in stature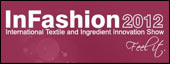 The recently concluded InFashion 2012 was a resounding success, and appreciated by all concerned. Also known as South Asia's only Textile & Ingredient Innovation Show, the event brought the entire fabric & apparel fraternity together for three action packed days.

Held at the impressive Bombay Exhibition Centre in Mumbai, InFashion 2012 was co-organized by the Federation of All India Textile Manufacturers' Associations (FAITMA) and the IMAGES Group, on 13th, 14th and 15th March, 2012. Encouraged by the response to InFashion 2011 last year, the show's display area was more than doubled this year.

InFashion 2012 expectedly attracted a much larger number of exhibitors than last year. But the most outstanding feature this time was the enthusiastic representation from even smaller towns countrywide. It was extremely satisfying for the organizers to see that this premier industry event had literally penetrated to the very heart of the nation, and that its footprint was now truly pan-India. For the record, as many as 182 different brands, from every corner of the nation, showcased their collections at InFashion 2012!

The show saw participation from players across the entire value chain -- from 'Fibre to Finish'. It brought together professionals & entrepreneurs as diverse as yarn & fabric manufacturers, fabricators, buying houses, brand owners, ingredient suppliers, service providers, fashion designers, wholesalers & distributors.

Designed as a showcase of the latest innovations -- in products, ingredients, processes & technology -- the event lived up to its promise. Visitors had a field day viewing breakthroughs that enhanced quality, improved profitability, cut production times and raised productivity. It is noteworthy that InFashion 2012 simultaneously unveiled new style trends for the forthcoming fashion seasons as well.

A highlight of the display this year was an exclusive section on sarees & dress materials, which featured a strong contingent of players from Gujarat.

Foreign delegates, participants and visitors from China, Taiwan, Hong Kong, Indonesia, Vietnam, Japan, Malaysia, Turkey, Sri Lanka, UK, UAE, U.S.A, Brazil, Poland, South Africa, Australia, Pakistan & Bangladesh also attended. Their presence was a tribute to the world's fast growing interest in the Indian textiles industry.

In fact, among the notable international participants were several first-time exhibitors, who were so pleased with the response they received, that they actually confirmed their bookings at InFashion 2013 prior to leaving!

These included Siddiqsons, Pakistan's leading knit denim manufacturer, who assured a larger number of players from their country at next year's edition. Besides names like Betty Jou, Weixin and Ningbo from China & Taiwan, who are also set to return in 2013 after a very satisfying experience this year.

Apart from the exhibits & stalls, the show's many other activities also received an overwhelming response.