Madura F&L unveils new 'Stag' logo for Allen Solly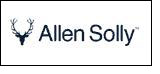 In its effort to bestow its apparel label Allen Solly with a unique identity, Madura Fashion & Lifestyle (Madura F&L), an Aditya Birla Nuvo Ltd. venture, has embarked on revamping the brand.

As a part of its revamp strategy, the firm has unveiled a new 'Stag' logo for Allen Solly brand, and it also proposes to revamp its 130 outlets spread across India, so as to enhance the brand's core 'Friday Dressing' positioning.

The 'Stag' logo, which is currently being introduced in the Bangalore based flagship outlet, would form a part of Allen Solly's new retail identity.

Within the next one year, the firm, which each year spends around six percent of its annual turnover on marketing, proposes to revamp all its 130 outlets across the country giving them a new look.

Further, Madura F&L also plans to launch 40-50 new Allen Solly outlets each year. In addition, it is also planning to launch a new product range catering to men and women.

Allen Solly brand is expected to clock a retail turnover of five billion rupees by the close of current financial year.

Launched in India in 1993, Allen Solly brought about a completely new concept to menswear in India — Friday Dressing. In the years that followed, the brand, with its Anglo-American heritage, proved to be the most innovative of the Madura Fashion & Lifestyle's brands. Today it is one of India's most popular and easily recognised brands in the branded premium apparel segment.