Tommy Bahama to unveil All-Star baseball game shirt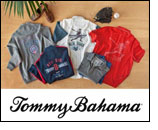 Two of America's powerhouse lifestyle brands, Tommy Bahama and Major League Baseball Properties, team-up again this year to provide fans with a new, expanded collection of co-branded apparel that pays homage to America's favorite pastime while delivering authentic skybox style.

For 2012, the roster for the "Collector's Editions" shirts includes a Red Sox/Fenway Park shirt celebrating the historic ballpark's centennial (available on opening day, April 5) followed by a Yankees Special Edition Shirt (April 12), and team shirts for the Texas Rangers (April 26), Detroit Tigers (May 3), Atlanta Braves (May 10) and a St. Louis Cardinals Commemorative World Series shirt (June 7).

In addition to these six shirts, Tommy Bahama will also be releasing a 2012 All-Star Game shirt that has been specially created for the Midsummer classic, available at the end of May. The "Collector's Edition" shirts and the All-Star shirt are available only at select Tommy Bahama stores and at its website.

Designed for a discerning fan-base, the first Tommy Bahama "Collector's Edition" camp shirt was created to celebrate the 2009 World Series. Only a limited number of shirts were made, featuring a numbered label and sent with a collector's certificate. Now, baseball fans and collectors of these exclusive designs have two reasons to look forward to Opening Day. Each season, Tommy Bahama unveils a new series of MLB team shirts with only a few teams featured. These shirts typically sell out so quickly they underscore the "Most Valuable" nature of these highly collectible shirts.

"Something truly special was created when we launched our first 'Collector's Edition' shirt three years ago," said Terry Pillow, CEO of Tommy Bahama. "Since then our customers have asked for more, and we have responded with an exciting new collection that pairs the signature style of the Tommy Bahama brand with the excitement and authenticity of Major League Baseball."

Also for the 2012 season, Tommy Bahama will unveil some exciting new MLB themed sportswear that will give fans more stylish options than ever before. The line-up includes knit track jackets (currently available for nine teams), and a collection of half zip sweaters, pigment-dyed polos and signature camp shirt styles, customized for all 30 MLB teams with logos and offered at price points as easy-going as the designs themselves.

Customized by market, fans can now celebrate their favorite teams, with new styles designed with Tommy Bahama's legendary quality and finish, whether that's a San Francisco Giants zip track jacket or a New York Yankees polo shirt.

"With this expanded collection, Major League Baseball Properties and Tommy Bahama have again brought the feeling of baseball alive just in time for Opening Day," said Howard Smith, Senior Vice President, Licensing, Major League Baseball. "This exclusive collection is consistent with the quality of the Tommy Bahama brand and is designed specifically for fans who want to celebrate their favorite team in a fun and fashionable way."