Two events that promote made in Italy labels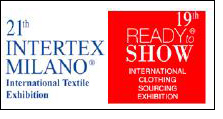 The Latest edition of Intertex Milano/Ready To Show (from September 14 to 16 2012 at "Palazzo delle Stelline" in Milan), the one & only fair in Italy for outsourcing textile/apparel/knitwear, organized since 2001 by T.D.F. Milan / Georges Papa, has been reconfirmed as the reference point for both for the world of Italian fashion and non-European producers.

Thanks to the diversification of offer and the insertion of new exhibitors with 89 collections from different countries who attended for the very first time like the Czech Republic, Mauritius, Nepal, together with India, China, Hong-Kong, Bangladesh, Morocco, Pakistan who were present in the past editions.

Among the news of the event, MADE IN INDIA EXPO, some kind of "expo in the expo" with 35 exhibitors of fabrics, knitwear, apparel and woolen fashion accessories organized by Wool Industry Export Promotion Council Wooltexpro with the support of the Ministry of Commerce and India's Industry. "India participates with great enthusiasm to this event having a triple objective – said the General Consul of India S.K. Verma at the opening ceremony = to Develop India's production technically, thanks to Italian know-how that is highly sophisticated, and expand the market by selling finished products to Italy".

Manesh N. Sanil, Executive Director of Wooltexpro, added: "We want Italy to become our key & strategy country partner in wool industry in the next future even if, so far, it already represents the fifth European importer of Indian textiles". The value of bilateral trade between India and Italy is around 9 billion of US$ while the total of Textiles' exports from India to Italy was 750,59 million US$ in the year of 2009/10 and 315.43 million US$ in the year of 2010 April/September against an import from Italy of 59.74 million US$ and 32.31 million US$ in the same year.

As another important news, the presentation of Haiti as new source for outsourcing equally competitive compared to Eastern countries and Mediterranean area, where you can find well-structed companies, labour with very high performances, and exemption of customs duties to US market.

The meeting organized by HAITI TEXTILE INDUSTRIES entitled "Haiti: a competitive market and a must-be explored territory for the Clothing Sourcing" communicated some interesting data: in Haiti for 2010 460 million of t-shirts and polo shirts were produced, followed by professional clothing, pants, jeans. The 22 companies existing in this country, that are almost exclusively Haitian, are large dimension and they produce respecting the environment and social norms: The 27.550 employees are all at least bilingual and they are used to work with countries such as USA and Canada and with very demanding customers (Levi's, Calvin Klein, Gap, Wallmart…).

Dr. Georges Papa, founder of Intertex Milano/Ready To Show, has declared: "we are facing a worldwide redistribution of resources: the best Chinese producers are revaluating the interest of their market, they are less devoted to European buyers or they hijack them to sub suppliers of the areas inside China, they have opened their production sites, for instance in Vietnam. Bangladesh grows in quality; India is developing not only for silk but also for wool. Turkey is prospering with pronto-moda. Morocco is promoting its producers as alternative in South-Mediterranean area, Haiti is offering no tax with the USA and the most popular department-stores all around the world, included in China, they want to offer their customers, not only brands but also private labels Made in Italy. The scenario is not easy to read, but definitely not flat".