Apparel brands enter new era of supply chain collaboration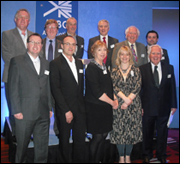 In a bid to entice cash strapped consumers to increase their spend on clothing, retail organisations, such as Matalan, Per Una and Shop Direct Group, are working in ever closer collaboration with their suppliers to improve product quality, consistency and delivery, within ever tighter budgets.

The retailers revealed their new collaborative supply chain strategies to nearly 100 delegates at the Association of Suppliers to the British Clothing Industry (ASBCI) recent seminar 'Facing fashion's supply chain challenges – end-to-end strategies that work!' sponsored by Lectra and held at the Marriott Hotel in Leeds. Delegates heard that increases in the cost of raw materials, labour, transport and logistics combined with the devaluation of currency and the crisis in consumer confidence has put the retail industry under siege.

In response retailers have joined forces with their suppliers to come up with innovative solutions to improve quality and supply chain efficiencies without increasing budgets. Furthermore retailers are advised to create unique brands that justify higher margins, harness the internet to reach global consumers and increase their focus on generating new spending habits in men while tapping into the aspirational and cash rich 45+ years' market.

Malcolm Ball, ASBCI chairman and technical director chaired the day's events which opened with a keynote presentation by Maurice Bennett CBE, co-founder of Warehouse and Oasis stores and currently joint chairman of Long Tall Sally, Kookai UK and chairman of Austique. Reflecting on his 63 years of retail success he believes difficult trading conditions have made the management of the supply chain more crucial than ever: "It is vital to build long-term connections with suppliers and to have a thorough understanding of the way they work."

He puts the onus on buyers to learn about manufacturing processes and acquire technical production knowledge as this will enable them to identify the 'right' factories, negotiate better prices, plan timely deliveries and create better garments within budget.

The right supplier relationship supported by a robust replenishment policy for winning styles will enable buyers to add 20% to sales, increase full price sell through and margins while reducing terminal stocks. He observes: "The most successful businesses are becoming international," and with the internet, gaining access to the global market can be achieved without investment in retail space.

Absolutely, agrees Maureen Hinton, practice leader with Verdict Research Analysis, exploiting new channels to market is a crucial element of retail success and should be exploited in the challenging trading climate. Salaries lagging behind inflation, rising unemployment (particularly in the 15 to 24 year old fashion conscious market) and the cost of living are seriously undermining consumer confidence and while the value of consumer spend on clothing in the UK is increasing (from £37 billion in 2010 to an estimated £39 bn in 2012) this is largely accounted for by price increases.