Lessons on Luxury by menswear firm Tom James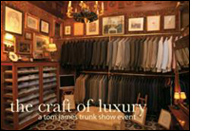 Tom James Company, the world's largest manufacturer and retailer of custom men's clothing, announces they will host seven Luxury Trunk Shows in 2012.

Tom James, which celebrated 45 years in business in fall of 2011, is reacting to renewed interest in luxury menswear.

"This is clearly an event that offers 'privileged access' to those clients who seek a fuller understanding of what goes into making a finely constructed garment," said Dougal Munro, President of Holland and Sherry.

"It begins with the cloth. And certainly all cloth is not created equal."

Munro has spent a lifetime in the textiles industry.

"At Holland and Sherry, we literally go from the wool off the sheep's back to the finished suit," said Munro.

His company, Holland and Sherry, is known as maker of the world's finest cloth. He, and Don Deisch of Oxxford Clothes, will present a program entitled "Lessons on Luxury" at these trunk shows. They are designed to explain the craft behind their products.

Oxxford Clothes, of Chicago, IL, is an iconic American brand that creates custom suits for the most discriminating customer. Their product is considered to be a 'bespoke' garment.

"There is a lot of talk about 'made-to-measure' these days,'" said Todd Browne, President of Tom James Retail, "but there is confusion on what made-to-measure really is."

"We feel, as the world's largest manufacturer and retailer of custom men's (and women's) clothing, that we owe it to the public to understand the difference," said Browne. "There is bespoke, custom and made-to-measure. That's created a lot of interest in learning the real craft of luxury."

Browne explains made-to-measure is the option just above 'off the rack.' Tom James does offer 'off the rack' or ready-made products at a lower price point, but as you move up they skip made-to-measure and go straight to custom suits. That's where a clothier takes measurements and creates a pattern from those measurements. All garments are made from that pattern and the pattern is kept on hand for future purchases.

"Often people think when they purchase made-to-measure they are purchasing custom," said Browne. "Not true. Typically made-to-measure starts with a stock pattern of that size and makes slight adjustments. A custom garment will take all the client's measurements into account. It's a more advanced process and it's more exacting."

Tom James also sells a true bespoke garment. "That's an area of confusion for people, as well," states Browne. "Some people think any custom garment is a bespoke garment, but that's not the case."

"Bespoke means 'spoken for.' What distinguishes the construction of a custom garment from a bespoke is that the bespoke garment has the highest level of meticulous detail, particularly achieved by hand sewing. A custom garment is likely to have more machine sewing."

This insures the greatest possible shapingand suppleness in the finished garments as well as the refinement of style and fit that provides truly luxurious comfort. An Oxxford Clothes bespoke suit, for example, has over 1000 hand stitches in the lapel alone.