Workwear Show - perfect stage for new product showcase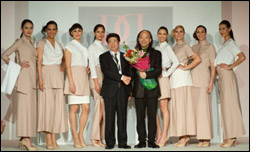 Top designers, manufacturers and suppliers from all over the world came together with a wide variety of large and small specialist industry companies to use this year's Workwear and Corporate Clothing Show as an international marketing platform to introduce new designs and innovative products.

Held at the Ricoh Arena, Coventry on the 17th and 18th April, the show featured a central fashion catwalk where in true 'East meets West' style, the UK's own Jeff Banks CBE chose to launch his smart new 'ICW' high quality tailored business wear, whilst China's leading corporate workwear designer Xu Jinglun paraded his 2012 collection of hotel and catering uniforms for its global debut. Other top brand names showing new designs included Dickies, Incorporatewear and Skopes.

Over 20 other countries were represented including Denmark, Australia, New Zealand, Japan, India and the USA, many of which used the show as a launchpad for the introduction of new products into the UK market.

Amongst these were New Zealand's Armadillo Merino, with a brand new range of next-to-skin personal protection clothing using the unique breathability properties of merino wool, and Bidhata Industries from India which showcased a range of technical fabrics including water repellent, flame, antibacterial and soil retardant.

Ten manufacturers, each of which introduced new product ideas were acclaimed under the SATRA PPE Innovation Awards scheme with the overall winner being Latchways for their R20 Personal Rescue Device, a lightweight, unobtrusive integrated harness for self-rescue. Buyers and suppliers of workwear and corporate clothing also received awards for their hard work and innovation at the Professional Clothing Awards gala dinner which took place on the first evening of the show.

Typical of the comments received regarding the exhibition, Visitor Kay Lee, the Buyer for the Procurement Department, Northamptonshire Police said: "It's been a good opportunity for me to catch up with colleagues from other police forces and compare notes. I have also come to look at the FR clothing available. The show is the premier event in technical fabrics and I have already seen several developments in workwear."

A delegation from the Chinese Workwear Association attended the show with 4 stands displaying a wide variety of stylish and practical workwear clothing and accessories.

Its Chairman, Mr Wang Yaoming, who opened the exhibition, said: "This is the first time that Chinese companies have visited the show which we have found to be very professional and worthwhile. Our top hotel wear designer Mr Xu Jinglun has received fantastic feedback from his first international debut and a number of our exhibitors have received orders; others have appreciated it as a great opportunity to see and learn about the international market firsthand. We are delighted with our first visit and wish to become further involved in both the show and the Awards next year with more of our members attending".