Change makers honored by Change clothing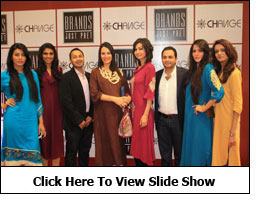 Retail brand Change has launched at Brands Just Pret, one of Karachi's most prestigious and illustrious multi-brand stores located at Dolmen Clifton Mall. To celebrate its launch, Change held a unique and innovative Change-makers event where women of substance who have brought about real and substantial change in Pakistan were honored. Change makers from a variety of fields were recognized and awarded Change trophies for being true harbingers of Change in many ways.

The honorees belonged to diverse sectors such as fashion, publishing, entertainment, education and the performing arts. Though the Change makers belonged to various age groups and professions, the unifying factor was their commitment to bringing about progressive change in the country.

"This is a big step forward for Change, and this will be the first time Change will be doing an event of this size," said Mr. S. M. Arsalan, CEO of Change clothing. "Change clothing is now stepping into the high fashion market after having captured the mainstream retail market."

Change clothing has big plans for 2012, said Mr. Aquil Halai, co-owner of Change clothing. "We plan to launch 12 outlets by the end of this year with about 7 being launched in Karachi. Change is on its way to bringing about a true change."

Amongst the change makers honored at the event were Rehana Hakim, publisher of Newsline magazine, who launched Pakistan's first politico-socio magazine and Joshinder Chaggar, who has brought about a complete change in the field of choreography in Pakistan by introducing modern and contemporary choreography.

"I am delighted to be a change maker and I am glad achievements in fields such as dance and choreography are now being recognized," said Chaggar, who wore a stunning chic Change outfit at the event.

Performing arts seemed to be a theme at the event since another dynamic personality honored at the event was Nida Butt, producer, director and choreographer. Nida Butt was singled out for having introduced Pakistan to the idea of musical performed to live music.
In addition, the Change makers event also honored women such as Hira Tareen who is distinguished for being Pakistan's first female DJ as well as Angeline Malik who has made huge contributions as a director and television actor.

"I'm delighted to be chosen as one of the change makers for this event," said Rehana Hakim, the publisher of Newsline magazine. "And it's great to see that Newsline's contribution to the field of journalism is being recognized in such a nice fashion."

Saraa Gheewala, one of the honorees, is the CEO of Snog frozen yogurt and is being recognized for helping transform the world of desserts in Pakistan. "It feels great to be nominated as a change maker and it's great to know that bringing about change in fields other than fashion, education etc is also being recognized."

Two prominent awardees were Andaleeb Rana, the founder editor and the Editor-in-Chief of Xpoze Monthly, as well as beautician and salon owner Annie Mansoor of Allenora. Andleeb Rana Farhan has a rich and varied experience in publishing, print and TV media and advertising. She is certainly not a new name in the media circles; in fact she has become as much an institution in the local fashion circles as the names she has worked with.