SKNL's FY'12 performance reflects sound business policies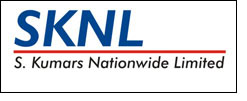 S. Kumars Nationwide Limited (SKNL), a leading multi-brand conglomerate involved in the design, manufacturing, marketing and distribution of high quality fabrics and ready-to-wear garments, announced its results for the year ended 31st March, 2012.

Financial performance update: (All figures are consolidated unless stated otherwise)

FY2012 financial results highlights:

• Net Revenues from operations enhances 21.9% to Rs. 63,643 million from Rs. 52,229 million in FY2011
• EBIDTA grows 27.5% to Rs. 13,470 million from Rs. 10,565 million in FY2011
• Net profit (before minority interest) increases 20.0% to Rs. 4,708 million compared to Rs. 3,925 million in FY2011
• PAT after minority interest up 19.3% to Rs. 3,949 million compared to Rs. 3,309 million in FY2011
• Fully diluted EPS after minority interest at Rs. 13.7, up by 12.1%


SKNL has reported substantial improvement in revenues and delivered enhanced margins despite a difficult macroeconomic environment. This is testimony to SKNL's brand strength and operating efficiencies which has enabled the Company to deliver superior returns in varied environments.

Improved brand visibility, expanding product portfolio, a de-risked business model with presence across product categories and socio-economic segments, vertically and laterally integrated businesses, seamless supply chain and expansive distribution network have been key drivers of the SKNL's growth story.

SKNL's performance is reflective of sound business policies, well defined growth strategies, strong execution capabilities and a bold vision of being clothier to the nation today and to the world tomorrow.

In FY2012, SKNL's net revenues grew 21.9% to Rs. 63,643 million from Rs. 52,229 million. Visible improvements in financial and operational performance across business verticals facilitated the Company's sustained sales momentum.

During the year, EBITDA stood at Rs. 13,470 million as compared to Rs. 10,565 million, an increase of 27.5%. EBITDA Margin for the year under review grew to 21.2%. For the year, PBT increased to Rs. 6,659 million versus Rs. 5,580 million in the corresponding period last year. Net profit after minority interest for the year stood at Rs. 3949 million compared to Rs. 3,309 million for FY2011.

Commenting on the results and performance for FY2012, Mr. Nitin S. Kasliwal, Managing Director and Vice Chairman of SKNL said,

"I am pleased to share we have made noteworthy progress during the year, with both the revenue and operating profit showing growth in a sluggish economic environment. The year witnessed strategic operational developments enhancing our value proposition; as well as higher volumes and realizations across our product portfolio. 'Belmonte' and 'Reid & Taylor' continue to be principal drivers of the domestic business with robust performances. The Luxury Cotton division is growing at a steadypace benefitting from increasing utilization levels and we expect to maintain this momentum.