AAFA releases new global growth resource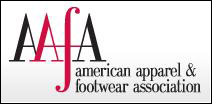 In its continuing effort to serve as the leading source of intelligence for the U.S. apparel and footwear industry, American Apparel & Footwear Association (AAFA) unveiled a new AAFA members-only resource designed to help propel AAFA members into new international markets.

AAFA's new country profile resources are tailored to provide AAFA members with key insight on the challenges of entering new high-interest countries. The four guides – for Brazil, Russia, India, and China – released are the beginning of a series that will continue to be unveiled over the next several months.

"A growing share of AAFA's membership is finding a global strategy can pay off," said AAFA President and CEO Kevin M. Burke.

"Over the next five years, we anticipate nearly every single AAFA member will be present in multiple markets, and it's our job to equip them with the needed intelligence to make smart decisions.

"The U.S. apparel and footwear industry's ambitious international growth strategy will require a keen sense of both tariff and non-tariff issues that regulate global trade. This is where AAFA has found a role through our international country profiles in helping create an environment conducive to furthering the U.S. apparel and footwear industry's success."

The creation of this resource is in direct response to input from AAFA members who are ready to expand their business internationally, and may need additional help navigating the complicated tangle of international rules and requirements.

Each profile addresses the key features that are unique to a country but necessary for foreign businesses to understand when looking to sell textiles, apparel, or footwear within that country's borders.

AAFA will continue to create profiles for countries that are of interest to AAFA members, whether they are a current trading partner or a country with untapped potential for consumer growth.

Each profile outlines certain key issues that must be addressed before market penetration is possible, including:
• Notable preferential treatment agreements that may affect duty rates and the import process.

• Market access including tariffs and fees; import procedures such as required documents for customs declarations, import licenses, and relevant cargo certifications; and, any import restrictions that are in place including tariff and non-tariff barriers.

• Labeling requirements for both apparel and footwear as well as the relevant legislation for compliance.

• Product safety and restricted substances including a link to AAFA's Restricted Substance List and global drawstring chart.

• Intellectual property rights focusing on trademark registration for foreign bodies.

AAFA continues its efforts to promote the success and competitiveness of its extensive membership, and, for this reason, only AAFA members will be granted access to this valuable resource.