SA apparel workers & employers fail to settle wage issue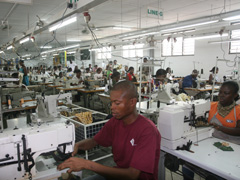 A wage dispute has erupted between garment and textile workers and their employers in South Africa, as the Southern African Clothing and Textile Workers' Union (SACTWU) rejected the final wage increase offer of the Apparel Manufacturers Association of South Africa (AMSA).
The fresh dispute, which might lead to a strike by textile and garment sector workers in the country, has badly struck South Africa's struggling textile industry at a time when it was making some significant progress and was on its way to job restoration.
SACTWU said it is still pondering over the idea of going on a full-fledged strike and trying to find out from the members whether they would support the strike action or not.
AMSA said the existing national agreement on wages has not yet been implemented properly. There are some non-amenable manufacturers who are infringing the National Bargaining Council agreement by paying lower remunerations. Therefore, the complying members, who are paying their workers the amount agreed at the national wage negotiations, are unjustifiably forced to compete with the unyielding ones.
Fibre2fashion News Desk - India