Eva Alexander's new Office pieces for maternity fashion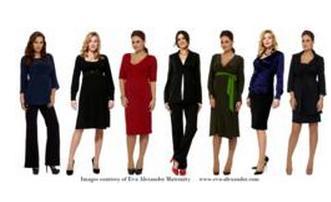 Maternity fashion has taken off in the last 10 years. Despite this revolution, the one area where women continue to struggle is finding maternity clothes for the office. In a day and age when woman balance their careers with motherhood and family, dressing for the office doesn't stop when she gets pregnant. For women who are in the media, professionals or executives, then it's even more important that she have a few well designed separates, the 'little black maternity dress' and a tailored maternity suit for business meetings and events.

Eva Alexander's maternity wear collection 'The Office' is what every pregnant working woman has been looking for. With a style that blends modern chic with the classic sophistication of the professional world, the clothes are nothing short of stunning. They are renowned for their tailored maternity suits that were created for professional women who aren't interested in compromising quality during their pregnancy. They want the best, they want an excellent fit, high-quality fabrics, and something that doesn't look like maternity wear, this is what Eva Alexander does best. "Women from around the world order our maternity suits and office wear separates because they are designed for the professional woman, tailored for a figure flattering silhouette throughout pregnancy and made to the highest standard," comments Jane MacDougall the founder of Eva Alexander.

Dressing for work isn't always about the suit though, and for many women, wearing a suit to work just isn't necessary, but dressing well is. Therein lies the brilliance of Eva Alexander's Office collection. With a selection modern, sexy and stylish maternity dresses a woman is always able to find the perfect dress for herself. Ranging from the Eva Tailored Maternity Dress which effortlessly resonates the chic sophisticated style of Victoria Beckham to the recent addition of the Ponte Knit Maternity Dress, a stunning modern classic that has been designed for wear long after pregnancy. The must have favourite that every pregnant woman has at least one of in her wardrobe, is the Classic Wrap Maternity dress that can be dressed up or down for any occasion, and will soon be available in a new range of colours.