Levi's brand joins Coca-Cola's EKOCYCLE initiative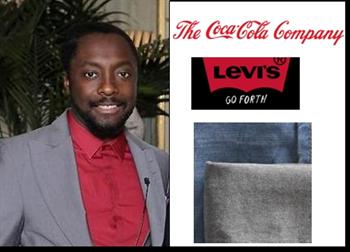 Global music artist and producer will.i.am and The Coca-Cola Company announced at a private launch event that the Levi's brand, MCM, RVCA and Case-Mate will be joining anchor partners, Beats by Dr. Dre and New Era as the newest members of the EKOCYCLE social movement.

The EKOCYCLE brand initiative was developed to educate consumers about everyday recycling choices and empower their purchasing decisions as part of a social change movement. The initiative supports recycling by helping consumers recognize that items they consider waste today may be a part of a lifestyle product they can use tomorrow. With a dedication to supporting a more sustainable environment, the EKOCYCLE movement is committed to identifying products, such as assorted plastic bottles and aluminum cans that can be repurposed into recycled content for fashion-forward lifestyle products through the help of some of the industry's hottest trend-setters.

The following products will roll out to consumers from companies that answered the call to produce new goods made in part from recycled materials:
Limited edition Levi's 501 WasteLess jean – Made with an average of eight recycled assorted plastic bottles per pair of jeans, Levi's WasteLess 501 jeans will be available in April 2013 for $128 with global distribution via Levi's retail doors and online at levi.com.
Beats by Dr. Dre EKOCYCLE headphones – Beats StudioTM headphones are precision engineered to reveal the full sonic range of music. Through EKOCYCLE, Beats delivers exceptional sound using materials that would have otherwise been wasted. Together EKOCYCLE and Beats deliver an inspiring sound experience. The EKOCYCLE Studio Headphone contains 31 percent recycled material, using three assorted recycled PET plastic bottles and is now available online at Beatsbydre.com and global e-tailers. The headphones are priced at $349.95.
Case-Mate Barely There Case – Now available at Best Buy stores in the United States and on www.bestbuy.com/casemate, the EKOCYCLE Barely There case extends the life of plastic beyond the landfill. Molded from a 100 percent recycled PET (Polyethylene Terephthalate), a translucent, glossy finish showcases more of your smartphone. Its ultra-lightweight, minimalist design delivers a stylish profile, while the EKOCYCLE logo is debossed for a sleek and modern look. The case retails for $35.
New Era caps – The EKOCYCLE Cap Collection features two caps - a 59FIFTY fitted and a 9FIFTY Strapback. Both are made with a recycled fabric that consists of a traditional polyester fabric and recycled plastic. Caps retail for $30-45.
Additional collaborations will be announced next year with iconic brand products ranging from everyday pieces to luxury items. The EKOCYCLE brand identifies a growing line of sustainably-minded products for purchase that are specifically designed to take recycling awareness to the next level while responding to consumers' evolving lifestyle choices with aspirational, yet attainable products made in part from recycled materials.