Nike unveils line inspired by world's greatest athletes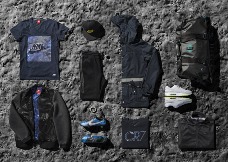 CR7 COLLECTION
From on-pitch dominance to off-pitch cool, Nike Sportswear releases a collection of sport classics inspired by the legendary style of one of the world's greatest athletes.
Created for the player who knows no limits and demands the ultimate in craft and performance both on and off the pitch, the CR7 Collection serves the complete lifestyle of the athlete.
Using a performance approach to lifestyle design, the CR7 Collection offers functional utility, comfort, and protection from the elements without sacrificing style.
Inspired by Cristiano's superstar status, a range of jackets including the butter soft CR7 Leather Track Jacket, precipitation ready CR7 Saturday Jacket, CR7 Reversible Jacket, and two CR7 Tee's allow athletes to move effortlessly between the worlds of sport and style regardless of the weather.
Nike