109°F debuts neutral romantic color line with hues of lime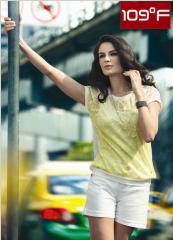 Rejoice the feminine spirit with evergreen hues of lime and other neutral romantic colours as 109°F introduces its latest 'Lime Collection'.
Take a glance at the season's supreme trend having a version of vibrant prints of flowers with a combination of dotted materials.
Walk through the enchanting swirl of colours with this enthralling collection. Adding a dose of sparkle to the wardrobe 109°F provides a gothic romance of the limed flower fairies called 'Lime Collection'.
Speaking about the collection, Mr. Radhesh Kagzi, President 109°F, said, "109°F places its fashion philosophy on thoughts and innovations that get you the hottest international trends the moment they become trendy. This exceptional collection by 109°F boasts of trend-setting motifs that promise to leave every woman flattered. Lime is our offering of the best intricate designs of dots, lacy and brasso motifs which plays around with vibrant prints and couture cuts that evoke easy and relaxed chic for the fashion forward."
109°F