BIBA unveils funky fusion prints infused kurtas & loungers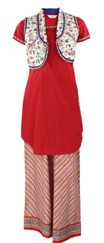 Greenery all around and enthralling scent of wet soil has glorified the ambience.
With the monsoon season going to knock at doors soon, it's time to give an innovative touch to the rainwear clothing with BIBA's latest monsoon offerings in bright and lively colors.
The range embraces an array of stylish Kurtas in breathable cotton fabric and loungers in funky fusion prints.
The collection have been styled in an easy-to-wear relaxed & comfortable way to give a stylized look and thus, are a must have for this season.
BIBA