UKFT's 'Grand Depart' flaunts garments made in Yorkshire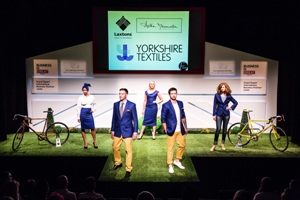 In anticipation of the 'Grand Départ' of the Tour de France, hundreds descended upon The Carriageworks in Leeds to attend a comprehensive showcase of the best of the Yorkshire Textile industry. Held by The UK Fashion and Textile Association (UKFT) with UK Trade & Investment (UKTI) and the Campaign for Wool, the event celebrated the diversity and creativity of the Yorkshire textile industry whilst the eyes of the world focused on the county.
The event showcased textiles and garments produced in Yorkshire in two catwalk shows held throughout the day presented by Leeds business entrepreneur Francesca MacDuff-Varley. There was also a fun cycling-themed hand-knitting 'PicKnit' workshop where visitors tried their hand at knitting, using some of Yorkshire's most luxurious pure wool yarns.
John Miln, CEO of UKFT said, "Yesterday's 'Grand Départ' event was a huge success and attended by both industry professionals and local people. It was great to see the festival unite the local community in celebration of the skills and creativity Yorkshire has to offer. The event provided a great platform to showcase the home-grown talent from the region alongside the Tour de France.
"Yorkshire has a rich textile history and is renowned for producing fashion and textiles for numerous sectors and industries. Alongside the abundant support from the UKTI and Campaign for Wool, we were able promote this diverse sector to a global audience."
UKFT