MIT researchers one step away from 'Second Skin' spacesuit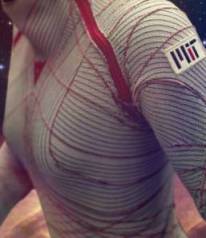 Researchers at Massachusetts Institute of Technology (MIT) are one step away from engineering a "Second-Skin" spacesuit.

MIT researchers are developing a space suit, where instead of climbing into a conventional, bulky, gas-pressurized suit, an astronaut may don a lightweight, stretchy garment, lined with tiny, muscle like coils.

The astronaut would then plug in to a spacecraft's power supply, triggering the coils to contract and essentially shrink-wrap the garment around his/her body.

The skin tight, pressurized suit would not only support the astronaut, but would give him/her much more freedom to move during planetary exploration. To take the suit off, he/she would only have to apply modest force, returning the suit to its looser form.

Now MIT researchers are one step closer to engineering such an active, "Second-Skin" spacesuit.

Dava Newman, a professor of aeronautics and astronautics and engineering systems at MIT, and her colleagues have engineered active compression garments that incorporate small, spring like coils that contract in response to heat.

The coils are made from a shape-memory alloy (SMA) — a type of material that "remembers" an engineered shape and, when bent or deformed, can spring back to this shape when heated.

The team incorporated the coils in a tourniquet-like cuff, and applied a current to generate heat. At a certain trigger temperature, the coils contract to their "remembered" form, such as a fully coiled spring, tightening the cuff in the process.

In subsequent tests, the group found that the pressure produced by the coils equalled that required to fully support an astronaut in space.

While skin tight spacesuits have been proposed in the past, there's been one persistent design hurdle on how to squeeze in and out of a pressurized suit that's engineered to be extremely tight.

That's where shape-memory alloys may provide a solution. Such materials only contract when heated, and can easily be stretched back to a looser shape when cool.

To find an active material that would be most suitable for use in space, researchers considered 14 types of shape-changing materials — ranging from dielectric elastomers to shape-memory polymers — before settling on nickel-titanium shape-memory alloys.

When put together as tightly packed, small-diameter springs, this material contracts when heated to produce a significant amount of force, given its slight mass — ideal for use in a lightweight compression garment.

The material is commonly produced in reels of very thin, straight fiber. To transform the fiber into coils, researchers borrowed a technique from another MIT group that previously used coiled nickel-titanium to engineer a heat-activated robotic worm.

Shape-memory alloys like nickel-titanium can essentially be packed to return to an original shape in response to a certain temperature.