Contractor for major clothing lines cited for $5 mn in unpaid wages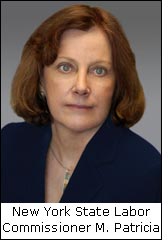 New York State Labor Commissioner M. Patricia Smith announced that the Department of Labor found extensive labor law violations committed by Jin Shun Incorporated, a garment contractor located at 47-51 33 rd Street in Long Island City, on the outskirts of Manhattan, and its owners, Jikai Lin and Zhang Yun Chen. The factory took extraordinary steps to conceal its violations, even providing its employees with mock question-and-answer sheets to memorize and use in response to investigators' questions.

Jin Shun, a producer of women's garments for retailers such as Macy's, Gap, Banana Republic, Express, Victoria's Secret, Limited and Coldwater Creek, has underpaid more than 100 workers out of nearly $3 million in minimum and overtime wages since 2005. Prior to 2005, the factory operated under the name Venture 47, when it allegedly cheated an even greater workforce out of nearly $2.5 million in minimum and overtime wages.

This morning, the Department "tagged" over ten thousand items of clothing made by the factory, affixing to the garments a label stating that the garments were unlawfully manufactured. Investigators found employees working on these garments off the clock over the weekend, so that the hours worked would not appear on time cards presented to investigators. Under the "hot goods law," it is a misdemeanor for anyone other than the Department or the consumer to remove such labels. Within hours of the tagging, the manufacturer, Urban Apparel, paid $60,000 in underpayments to have the tags removed, the amount of money attributable to the unlawful manufacture of the tagged garments. The Department also tagged garments at several other factories this morning.

Jin Shun has been cited for violating the state's minimum wage and overtime laws, falsifying employee time records, not paying overtime wages, and coaching employees to lie to Labor Department investigators. The factory also changed names repeatedly when faced with Department of Labor Investigations and is now operating under the name Garlee NY Inc.

"This factory paid sweatshop wages, kept fake records, and coached employees to lie, even though it had signed retailer codes of conduct to comply with the law. The Department of Labor will use all legal tools to stop this mistreatment of workers," said Commissioner Smith. Commissioner Smith noted that the Department is referring the case to the Queens District Attorney's office for review for possible criminal charges.

An investigation by the Department of Labor's Apparel Industry/Fair Wages Task Force revealed that employees of the factory worked twelve-hour days, six to seven days a week, and were paid on a piece-rate basis. The employer falsified time records by making workers punch one time card for their hours on Monday through Wednesday, and a second time card for the latter part of the week, so that each time card would show 30 – 40 hours, and not the actual full weekly amount worked. The employer would provide only one set of time cards to labor investigators, presenting them as the employees' true hours of work. Based on reasonable estimates of production time, the department's investigators calculated that a worker would have had to finish an entire piece of clothing in less than one minute if the time cards presented by the employer were accurate.