'Per Se' modern clothing line for Connecticut women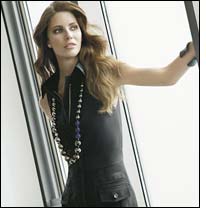 The Connaught Group, a leading Manhattan-based direct sales fashion corporation, debuted its newly expanded Per Se Collection in select Connecticut markets. Per Se, which had previously been a smaller offering under Connaught's well-respected Carlisle Collection, will now be available additionally via appointment-only trunk shows hosted by Per Se wardrobe consultants.

"We have designed Per Se for modern, confident women who want to create their own style," says Bill Rondina, Chairman and CEO of the Connaught Group. "They'll mix vintage with new and designer with brand-x. Whether they tend toward the trendy or the tried-and-true, these women know what they like and are comfortable making their own fashion rules."

Connaught chose to launch the expanded Per Se Collection in Connecticut because of its proximity to New York and its initial popularity there. The line was quietly introduced in 2005 as an edgier, European-style compliment to Connaught's Carlisle Collection. Season after season, the Per Se pieces sold out, and Rondina saw an opportunity to create a whole new generation of enthusiasts.

"The Per Se line, with its playful-yet-sophisticated offerings, has proven to be very popular with Connecticut women and is poised for future growth," explains Rondina. Throughout 2009, we will continue to expand the line in key markets across the U.S. by recruiting the best wardrobe consultants around to be part of our team."

Per Se's Manhattan-based design team will create four collections a year - spring, summer, fall and holiday. Fabrics are sourced from the finest mills in the world, and each garment is meticulously and thoughtfully constructed, customarily incorporating details such as sculpted waistbands, careful darts and flat-stitched pleats. From the superior quality clothing to the personalized selling process, Per Se offers its customers an experience unparalleled in the clothing business today.

"Connecticut women are sure to appreciate the extraordinary personal service and wardrobe-building expertise we offer alongside our beautifully made and eminently wearable clothes not found in stores," explains Caroline Bowen, President of The Connaught Group.

The launch of the new Per Se line and growing team of direct sales consultants is quite timely given the current state of the economy. Indeed, as brick-and-mortar stores go by the wayside, direct sales fashion - estimated to be a $30.8 billion industry by the Direct Selling Association - is experiencing a renaissance, with further growth expected. By comparison, Britt Beemer, chairman of America's Research Group, recently forecasted that, "by the end of 2009, the number of retail players will be down by at least 25%."

The Per Se Spring Collection features a number of MUST-have trends for stylish women this season including:

• Pan For Gold: It's all about a metallic patina this season as you find subtle gold, silver and copper in fabrics, prints and accessories. The Fame skirt captures that light and shine.