Eschler e1 Flash fabrics are fantastic!!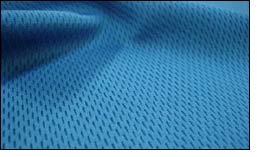 In summer 2010, Swiss kni twear manufacturer ESCHLER presents a comprehensive collection of highly technical fabrics for all three layers. For this season, the product development team focused on the first layer e1.

Eschler introduces four new e1 qualities wi th Dry Touch yarns, six innovative e1 Flash fabrics (bi-component kni twear utilizing polyes ter inside and polyamide outside) and six new func tional fabrics from 100% recycled polyes ter.

Eschler sportswear fabrics are segmented in the eschler comfort system (ecs): a complementary layering principle with the categories e1, e2 and e3/e3+. For its summer 2010 collection, the Swiss company focused on optimising the first layer, fabrics worn directly on the skin.

e1 Dry Touch
One of the highlights of the summer 2010 collection are four new e1 qualities from Dry Touch yarns. Dry Touch is a Polyester fibre with a channelled structure by Turkish yarn producer Korteks. The five-channel cross-section filaments increase the surface area, thus guaranteeing outstanding moisture management and great comfort – even during high aerobic activities.

Product Manager Markus Lutz: "We are very excited about the product! At the beginning, we were rather sceptical about Korteks' Dry Touch yarn specifications regarding drying time, absorbency and moisture transportation. Yet, after we had produced the first fabrics, we tested them at the independent research institute EMPA in St.Gallen/Switzerland. The results have confirmed all of Korteks' specifications! The fabrics are fantastic!"

The four new Eschler e1 qualities also offer a high UV protection (up to UPF 50+) and have a very soft touch. For summer 2010, the Swiss brand exclusively uses the Dry Touch yarn with silver ions incorporated in the polymer of the fibres, which inhibit the growth of odour-causing bacteria. e1 Dry Touch is the perfect fabric for functional underwear, technical shirts, as well as performance garments, in particular for the categories bike, running or triathlon.

e1 Flash
e1 Flash summarizes six technical fabrics which "dry in a flash". The innovative fabrics combine two different surface materials: Polyester on the inside, Polyamide on the outside. Eschler also adds Elasthane for more elasticity. With its bi-component construction, Flash fabrics offer an outstanding moisture management and excellent cooling properties. The Polyamide outer material also guarantees a high abrasion resistance. The added Elasthane allows great freedom of movement, which makes the fabrics ideal for bikewear, triathlon or running apparel – even for competition garments or high temperatures!

"New Life" PCR yarns
As one of the first textile companies, Eschler committed itself to an environmentally friendly production cycle by becoming a bluesign system partner. With the introduction of six new fabrics (two in each layer, e1, e2 and e3), the Swiss brand enforces its dedication for a more sustainable system. The range uses "New Life" yarns by Italian producer Miroglio made of 100% PCR (Post-Consumer Recycled) Polyester – in this case: PET bottles.