Dr Koshy honoured with prestigious 'Star of the Italian Solidarity' award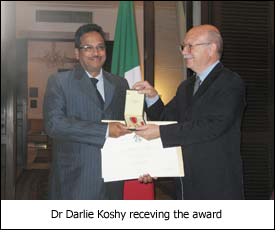 Italy's ambassador to India His Excellency Roberto Toscano today gave the prestigious Star of the Italian Solidarity Award to Dr Darlie Koshy, Director General of Education & Training Initiatives of the Apparel Export Promotion Council (AEPC).

The award is conferred by President of the Republic of Italy on those who illustrate themselves with their activities and who contribute to strengthen the friendly ties between India and Italy .

Dr Darlie Koshy heads the AEPC's education and training initiatives and is the CEO of Apparel Training & Design Centre and the Institute of Apparel Management which form an integral part of the council's Strategic initiatives.

Last year, he was conferred the Premio II Ponte Award for his contribution to Design for development and quality of life instituted by the Foundazione Europea Guido Venosta at Milan in Italy.

Dr Koshy has authored three pioneering books on international marketing and design management, two monographs and about 100 papers. He has made over 200 presentations within and outside India and his recent book "Indian Design Edge" published by M/s. Roli Books has received wide critical acclaim as a pioneering and thought provoking work.

Before joining the AEPC in late last year, Dr Koshy has been the director of the Ahmedabad-based National Institute of Design for two terms of office (2000-2008). He initiated and drafted the country's first National Design Policy which was approved by the government in February 2007 apart from setting up two new campuses of NID.

The statement made by His Excellency the Ambassador said in specific "Dr. Darlie Koshy in his capacity of former Director of National Institute of Design (NID), the Principal Institute of Indian Design has greatly contributed to Indo-Italian Co-operation in the field of Design".