ASBCI to host 'The Crude Cost CO2st of Fashion' conference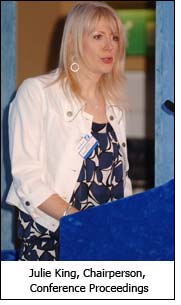 Financial and energy experts will join speakers from the retail, clothing manufacture, global logistics and cleaning sectors at the 15th ASBCI Annual Industry Conference 2009 entitled: 'The Crude Cost CO2st of Fashion' – Addressing fashion's economic and energy challenges'.

The conference will be held on Tuesday 19th May 2009 in the magnificent surroundings of the Dunchurch Park Hotel, in Dunchurch, Rugby. The internationally renowned line-up of speakers has been invited to offer delegates proactive and positive retail, manufacture, logistics and energy strategies for dealing with the current economic and energy crises.

Out of industry experts from Pricewaterhouse Coopers LLP, the National Grid and the UK Petroleum Industry Association will join speakers from the retail sector's Sainsbury's, Tesco Stores and Marks & Spencer's 'green' fashion factory Brandix Lanka. An overview of the current retail landscape will be presented by Lauretta Roberts from her unique perspective as editor of Drapers.

The eminent speaker line-up continues with logistics and transport experts from Advanced and Kuehne & Nagel, sustainable fibre specialist Lenzing Fibres and outspoken cleaning consultant, Andy Formosa of the Textile Care Company.

In response to member demand there will also be a presentation from the Health & Safety Executive, HSE, on the crucial status of the European REACH regulation, the Registration, Evaluation, Authorisation and restriction of Chemical substances in all imports and exports.

The conference will open under the informed guidance of Julie King, the day conference proceedings chairman and head of department fashion and textiles, at Leicester's De Montfort University. Senior managers from Pricewaterhouse Coopers LLP, Melissa Carrington, sustainability and climate change and Ricardo Basile, performance improvement consulting will examine how companies can reduce costs in the current economic climate while achieving sustainability objectives.

Chris Bennett, future transmissions network manager, the National Grid will then present its energy scenario for 2020, an influential strategy document that is informing government thinking. Chris Hunt, director general, the UK Petroleum Industry Association will go on to address what changes we can expect in oil supply and prices over the coming months and years.

Mike Potts, UK REACH competent authority with the HSE, will assess the impact of REACH on the fashion supply-chain, specifically with respect to Substances of Very High Concern, SVHC, and crucially how compliance to the regulation is going to be policed.

Alison Austin of Sainsbury's will give an overview of the chain's first purpose-built 'green' store including its customers' response to shopping in a sustainable environment, while Ajit Johnpillai from Sri Lankan-based Brandix Lanka Limited will explain how his company produces its garments in a commercially successful 'green' factory for retail giant M&S.