Connecticut celebrates summer with old Hollywood clothing line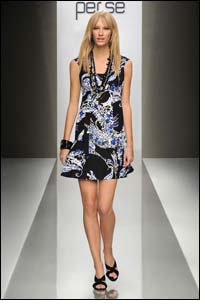 Women looking to get a jump on the carefree days of summer just got one step closer, thanks to Per Se. The contemporary women's clothing line unveiled its summer collection in select Connecticut markets, with versatile looks that are sure to bring women much fun in the sun! Indeed, the new collection has something for every taste. Whether going to a gala event, heading to the office or packing for a weekend get-away, women wearing the Per Se summer collection will undoubtedly experience this fun-filled, adventurous season with confidence.

The new collection is deliberately eclectic, featuring items which celebrate old Hollywood glamour, chic days in Morocco, jazz infused evenings, as well as sophisticated, playful short looks for leggy summer days and nights.

"This collection will give the impression that our clients have jet-setted across the globe to build their summer wardrobe. In truth, the Per Se designer has done all of the leg work for our clients, traveling all over the world to track down the perfect fabrics and partnering with our in-house pattern makers to create truly inspired looks. It's all in one collection and easily available through a one-on-one appointment with one of our wardrobe consultants," says Bill Rondina, Chairman and CEO of The Connaught Group, Per Se's parent company.

Connaught continues to woo well-heeled, entrepreneurial women and men to sell Per Se as wardrobe consultants, as the company expands the line's availability in Connecticut and looks to conquer New Jersey, Westchester and Long Island next.

With hand selected and trained Consultants prepared to showcase Per Se in a number of Southern CT townships this month, the recruiting team is now actively spending time in Greenwich, Darien, Ridgefield, New Canaan, Westport, Norwalk, Westin, Fairfield, West Hartford. They are also focused on key northern CT suburbs including Madison, Avon, Guilford, West Hartford, Southbury, Waterbury, Middlebury, and North Haven in search of the perfect entrepreneurial wardrobe consultants to represent the collection.

Beginning March 27th, wardrobe consultants in Darien, Greenwich, Westport and Stamford will showcase the collection "by appointment only" in their homes, country clubs or personal store fronts for a week at a time, through the end of April.

"Our creative process always starts with our clients in mind. Our designers take all of the trends and narrow the scope so that the client can choose from elegant ensembles and statement pieces that work from day to night. More and more women are abandoning the mayhem of the retail experience in favor of a more focused, private wardrobing appointment with us. Instead of worrying about last minute shopping, our clients are scheduling appointments with our consultants to ensure that they are shopping smart and stylish just four times a year," explains Caroline Bowen, President of The Connaught Group.