Xtep to further enhancing brand recognition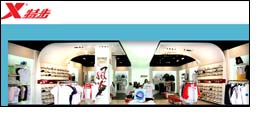 Xtep International Holdings Limited announced its annual results for the year ended 31 December 2008 (the "year under review").

During the year under review, the Group achieved remarkable results performance with its continuous efforts in enhancing Xtep brand promotion and expanding the retail network. Revenue of the Group increased significantly to approximately RMB2,867.2 million, representing a growth of 110.0% over last year. Gross profit and profit for the year surged by 140.2% and 129.0% respectively to approximately RMB1,064.3 million and RMB508.2 million.

Gross profit margin improved by 4.6 percentage points to 37.1% (2007: 32.5%) while net profit margin also increased 1.4 percentage points to 17.7% (2007: 16.3%). Basic earnings per share amounted to RMB 26.84 cents, representing an increase of 77.6% over last year. The Board of Directors recommended the payment of a final dividend and a special dividend of HK8.0 cents and HK5.0 cents per share respectively. Together with the interim dividend of HK5.0 cents per share, the total dividend for the year ended 31 December 2008 amounted to approximately RMB345.4 million and the dividend payout ratio for the year was approximately 68%.

Chairman and Chief Executive Officer of Xtep, Mr. Ding Shuipo, said "Despite global financial crisis, the Chinese economy maintained a steady growth with China's urbanization in various regions continues to accelerate as well as a host of stimulus packages to drive domestic demand were implemented by the PRC government. The sports frenzy bred in the PRC as a result of the Beijing 2008 Olympic Games has boosted the Chinese citizens' passion and participation for sports.

Together with the increasing awareness of health among general public, it has helped to stimulate the demand for sportswear products from the consumers. Nowadays, customers not only address on the functionality of sportswear products, but also yearn for stylish and fashionable designs.

Facing such enormous market opportunities, the Group bolstered its marketing and R&D efforts as well as further expanded its retail network, thus achieving outstanding results with growth recorded across the border."

As at 31 December 2008, the retail outlets operated by the Group's distributors and third-party retailers amounted to 5,532 outlets (2007: 4,647 outlets). The number of Xtep brand outlets also increased by 676 outlets to 5,056 outlets as at 31 December 2008 (2007: 4,380 outlets). The Group established a total of 12 Xtep brand flagship stores in Hunan (Changsha), Hubei (Wuhan), Anhui (Hefei), Shandong (Jinan), Beijing, Liaoning (Shenyang), Jilin (Jilin city), Shanxi (Taiyuan) and Fujian (Xiamen).

With the rapid expansion of retail network operated by the Group's distributors and third-party retailers, the Group's revenue grew significantly. Revenue from footwear products grew by 71.3% to approximately RMB1,454.6 million (2007: RMB849.1 million), while revenue from apparel products increased by 171.5% to RMB1,350.9 million (2007: RMB497.6 million).