Fresh & sparkling colours to enhance GOLFINO Man look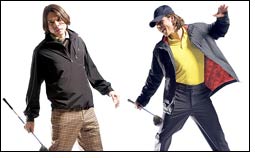 As the European Market Leader in Golf Sportswear, GOLFINO offers a variety that is larger than ever. The latest spring/summer GOLFINO collections show a great range of fresh and sparkling colours, always designed in the best of taste and representing a style of understated elegance. The young G+ collection stands for a new and unconventional Golf fashion. The unique selling point of the GOLFINO brand is the unrivalled combination of high-tech function and fashionable outfits.

GOLFINO Men
In Spring/Summer 2009, GOLFINO offers five different modules for our male clients.
GOLFINO – Men CRUISE RESORT The first delivery period for the men's collections is Cruise in November - unique for a European golf fashion house. Whether you go on board or to Southern shores, fresh colours and a great choice of lightweight styles mean comfort in changeable weather. A great novelty in this module is a highly fashionable rainproof jacket.

GOLFINO – Men SPRING ON COURSE
The On Course Module is pure golf, bread and butter for the top class Pro Shop. The colour story is based on an earthy checked pattern with black and beige sprinkled with olive green and rusty red. Toned down jacquards and stripes produce some of the finest polo shirts. The soft, very light, but very tough 3 Ultra microfibre windbreaker will become a modern classic.

GOLFINO – Men SPRING RESORT
The Resort Module for spring 2009 is GOLFINO's shadow line. Anthracite grey, piped black and exclusive checked trousers enhance this look, a white shirt sets a summerly contrast. Fabrics are nothing but the best with 3-Ultra jackets, a windstopper pullover and a 4-waystretch microfibre producing the most functional golf trousers available.

GOLFINO – Men SPRING COSMOPOLITAN
The Cosmopolitan Module is GOLFINO's step into casuals. Wearable on the golf course, but representing a clean urban style. Argyle patterns in red, grey, white and black design bright knitwear in the best club tradition. Finely checked woven shirts add an extra dimension and we are brave to include white and grey trousers.

GOLFINO – Men SUMMER RESORT
The Summer Resort Module gives sales an new impulse in May with wealth of great polo shirts appropriate to the hot season. The moisture management system of the advantic fabric and UV- protective coating help enjoy a summerly round of golf. The style statement are exclusive argyle prints in a modern interpretation and blanc blue colours.

GOLFINO Rainwear
GOLFINO Rainwear for the second time has its own module. GOLFINO has always marketed its styling first, but it also second to none rainwear. Absolutely rain proof with a maximum of breathability in fabric and countless details, especially the elastic stretch rainsuits are the epitome of comfort. GOLFINO Rainwear reduces your score by quite a few shots.

GOLFINO Accessories
GOLFINO accessories consist of two product groups: Functional golf related bags and small and exclusive gifts. Half of the module is exchanged every season allowing extra sales time for each item. There is a garment bag, a travel bag, a regular golf bag in two sizes, a sponge bag, a weekender bag, a handbag and much more.