New store Lisca in Sarajevo!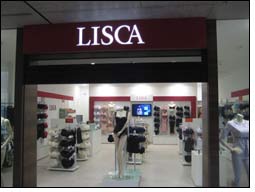 On 6th April Lisca opened modern store in shopping center BBI in Sarajevo city center in Bosnia and Herzegovina.

Visitors will enjoy Lisca's and Cheek by Lisca's Spring/Summer collections of Lingerie, Nightwear and Blouses.

The company Lisca was founded on 5th August 1955 as a small craft workshop occupied with mending of stockings and dressing buttons. Later the company had specialized in lingerie and reached a rapid progress. Lisca devotes its attention to the quality of its own make, as well as to quality of procedures, level of business results and factors that affect them.

The company Lisca is a recognized tenderer of lingerie, swimwear and blouses especially in the European area; with novelties it follows the wishes of woman consumers, their needs for high quality products that fit tight to their bodies and meet their needs for beauty, attractiveness and self-confidence.

Lisca d.d.