GEA requests new Govt to introduce flexible labour norms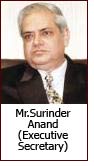 Mr Surinder Anand, Executive Secretary, Garments Exporters Association has expressed happiness on the general election results as it would be continuation of liberal economic and commercial policies of the UPA Government. While congratulating and complimenting Dr. Manmohan Singh, GEA hoped that necessary fiscal and commercial relief will be granted to the textile industry in general and garment export sector in particular to help the exporter to overcome the present crisis being faced by them because of worldwide recession resulting in slowing down of export orders from overseas markets.

The election results are in favour of continuation of economic reforms and inclusive economic growth to provide the benefits to all sections of the society. This just indicates the good governance of a performing outgoing Government and the earnest desire of the electorate to bring them back to continue their good work with least amount of interference from fence sitters. The Government should give top priority to the textile industry as it provides large employment to rural poor and weaker sections of the society particularly women.

According to the RBI report "India has been impacted by the deep global crisis, much more than was expected earlier. The GDP growth has moderated reflecting lower industrial production, negative exports, deceleration in services activities, dented corporate margins and diminished business confidence".

The global economic slowdown has increased the international competition and reduced the overseas orders and exports. The Indian Economy is passing through a critical phase of uncertainty, transition and restructuring. It continued to be under severe strain because of demand recession and declining trend in industrial production and exports.

The very poor performance of exports during the years 2007-08 and 2008-09 and uncertainty about the future performance reveals a very gloomy picture. The Garments Exporters are going through a serious crisis which is threatening their very existence. Exporters have been weighed down by serious financial burdens resulting directly from the fiscal measures of the Government.

The increasing input cost, tight credit policy and high interest rate, severe liquidity crunch, rigid and outdated labour laws, poor infrastructure, high transaction cost, high power cost and frequent power cuts and increasing cost of wages are some of the difficulties being faced by exporters which should be mitigated to the extent possible and a long term solution should be finalized for the efficient functioning of exporters.

GEA wishes to offer following suggestions to the new UPA Government while finalizing Budget proposals, Foreign Trade Policy and the RBI Credit Policy.

ISSUES RELATING TO MINISTRY OF FINANCE
1. To hike duty drawback rates by 4 per cent by increasing the scope and coverage of duty drawback scheme so as to ensure full reimbursement of excise duties, custom duties, service tax, education cess and various state level taxes.