ANTA as 2009-2012 Sportswear Partner of Chinese Olympic Committee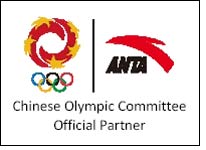 ANTA Sports Products Limited is pleased to announce that it has entered into a strategic alliance agreement with the Chinese Olympic Committee ("COC"), appointing ANTA Sports as the "2009-2012 Sportswear Partner of Chinese Olympic Committee" and the "2009-2012 Official Partner of China Sports Delegation," marking an important milestone in the history of China's sports development and further cementing ANTA Sports' leading position in the sports arena.

The theme for the ceremony celebrating the appointment and the anniversary of the Olympic Games, held at the National Olympics Sports Centre in Beijing, was "Encouragement and Growth". Mr. Wang Jun, Vice Director of the State General Administration of Sports and Vice President of the COC, announced the crowning of ANTA Sports as COC's Partner from 2009 to 2012. Mr. Ding Shizhong, Chairman and CEO of ANTA Sports, received a specially-made badge of the COC from Mr. Liu Peng, President of the COC. The badge symbolized the partnership between the two parties and the start of a new chapter in China's Olympics development history.

Mr. Wang Jun said, "ANTA Sports' good corporate image is a mirror of the Olympics spirits. ANTA Sports has managed to maintain continuous strong growth and provided substantial support to the development of China's sports industry. We believe that the partnership will allow ANTA Sports to contribute to China's Olympics development."

The partnership was unprecedented in terms of the range of related rights, duration and the amount of sponsorship. In the coming four years, the China Sports Delegation will be wearing sportswear sponsored by ANTA Sports to 11 influential international competitions (see attachment), including Guangzhou 2010 Asian Games, Vancouver 2010 Olympic Winter Games, and the London 2012 Olympic Games. Besides, ANTA Sports will be provided with resources for marketing development from the COC and the China Sports Delegation. ANTA Sports will join hands with the COC to explore the true Olympics spirits while proudly driving the Olympics development in China.

"We are dedicated to blending the spirit of "Going Beyond Oneself" into people's daily lives, providing Chinese customers with professional sports products and services, as well as promoting the development and popularity of sports. With the support of the COC, ANTA Sports can achieve that goal and its leadership in the market will be further strengthened," said Mr. Ding Shizhong.

Mr. Ma Jilong, member of the market development committee of the COC, announced the first of the activities to promote the popularity of the Olympic Games and China's sports development in the community jointly held by the COC and ANTA Sports will be the "Outfit Design Competition for Chinese Athletes at the 2010 Guangzhou Asian Games", inviting designs from all over the world for an outfit for the China Sports Delegation. The selected sportswear design may have a chance to appear onwinning Chinese athletes on the podium at the awards ceremony in the 2010 Guangzhou Asian Games.