Dickies American Worker of the Year search down to final six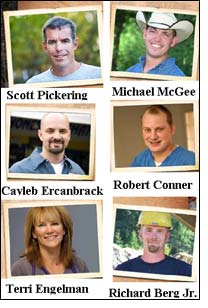 Dickies, the leading global workwear brand, proudly announces the six regional finalists for its 17th annual American Worker of the Year award. With employment numbers shrinking and workdays expanding to compensate for reduction in workforces across the nation, Americans are working tirelessly to keep their jobs and support their families with little acknowledgment of jobs well done, day in and day out.

A recent national Omnibus survey1 showed that despite the economy's effects, most workers (78 percent) believe they are doing the best they can and take pride in their work. In contrast, only 4 in 10 workers (46 percent) strongly agree they are appreciated at their jobs. For seventeen years, Dickies has honored hardworking individuals who strive to keep the American dream alive with their enduring and inspiring spirit.

"Dickies respects the hard work Americans do every day and we're honored to recognize just a few of those who represent so many people across the country," said Misty Otto, public relations director for Dickies. "We selected these six amazing workers out of the volume of entries because of their relentless spirit, positive outlook, and sheer determination to do their jobs to perfection to support their families and futures."

This year, the American Worker of the Year finalists includes leaders in their industries: small business owners, a teacher, mechanic, nurse and surface miner. Two of the finalists currently work two jobs in order to support their families. The regional finalists are:

• Scott Pickering, a nursery manager and outdoor lighting company owner from Omaha, Neb.
• Cayleb Ercanbrack, a mechanic and sales manager from Provo, Utah
• Terri Engelman, a nurse from Jacksonville, Ill.
• Michael McGee, an agricultural teacher and horse trainer from Broken Bow, Okla.
• Robert Conner, a carpet cleaning business owner from Jacksonville, Fla.
• Richard Berg Jr., a surface miner from Lake Luzerne, N.Y.

Selected by a panel of judges, the regional finalists will receive an unforgettable trip for two to the Professional Bull Riders World Finals where the grand prize winner will be announced live during intermission on October 30, 2009. The American Worker of the Year winner will receive $50,000 and a VIP trip for two to the Dickies 500 NASCAR Sprint-Nextel Cup race, November 6-9, 2009. At the race, the American Worker of the Year will have a chance to turn their $50,000 into $1,000,000 by randomly selecting one of the top 12 Race for the Chase drivers to win the Dickies 500. Should that driver go on to win the Dickies 500, the American Worker of the Year will go home with $1,000,000. The five remaining regional winners will each receive $10,000.

Workers entered the American Worker of the Year contest by submitting a photo and brief essay to illustrate how they represent the ideals of a true, hardworking American and how Dickies helps them do their job.Nominations were accepted between May 1 and June 30 at www.americanworkeroftheyear.com, via mail or entry forms at stores or mobile tour stops.

Williamson-Dickie Mfg. Co.