USTPAC welcomes protests against clothing 'Made in Sri Lanka'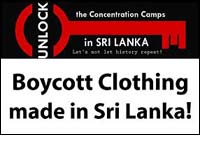 US Tamil Political Action Council (USTPAC) welcomes protests staged in front of GAP and Victoria's Secret stores. Tamil Americans and Tamil Canadians are protesting Sri Lanka's continuing efforts to suppress its Tamil population. Garment manufacturing is Sri Lanka's principal foreign exchange earner, without which Sri Lanka can not maintain its heavily militarized government.

USTPAC hopes and expects that shaming major importers of Sri Lanka garments like GAP and Victoria's Secret will eventually result in diminished funds to the Sri Lankan military accused of war crimes and crimes against humanity.

On September 12, 2009 concerned consumers across the U.S. and Canada staged protests in front of GAP and Victoria's Secret stores asking customers to check the label and say no to products made in Sri Lanka.

ABC news reported that "Protesters rallied outside two chain stores in San Francisco's Union Square Saturday, urging shoppers not to buy clothing made in Sri Lanka." ABC reported that similar demonstrations occurred in at least 14 other American and Canadian cities.

A spokesman for USTPAC, the U.S. Tamil Political Action Council, said that "USTPAC welcomes this campaign by rights activists asking consumers to make the right choice by not supporting genocide. Sri Lanka is continuing its long-term attempt to destroy the Tamil community on the island and this effort is being paid for by American customers who buy clothing 'Made in Sri Lanka.' Tamil Americans are asking all Americans to say 'No' to what USTPAC call 'Garments for Genocide.' "

The USTPAC spokesman went on that "In 2009, the Sri Lankan armed forces killed over 20,000 Tamil civilians with indiscriminate attacks and starvation. While Western nations call for investigation of war crimes, the Sri Lankan government continues to deny independent investigators and journalists access to war-torn areas."

The USTPAC spokesman added "Currently 282,000 Tamil civilians are being held indefinitely in military-controlled internment camps in unsanitary conditions without adequate food and water, from which according to reports, many young people are taken every day to unknown destinations. The Times (UK) stated that an estimated 1400 civilians die per week in these internment camps from preventable diseases, as humanitarian agencies are not being allowed to provide sufficient aid."

According to the USTPAC spokesman, "While holding innocent Tamil civilians in internment camps and claiming insufficient funds to provide necessary food and shelter, the Sri Lankan government continues to recruit troops and build up its army to occupy the traditional Tamil homeland in the North East of the Island. To sustain such a highly militarized state, the Sri Lankan government depends on the garment industry, Sri Lanka's largest source of foreign exchange."

Recognizing Sri Lanka's human rights violations, the European Union has indicated in the past week that Sri Lanka will likely lose its trade preferences for garments.