Textile minister stresses on training workers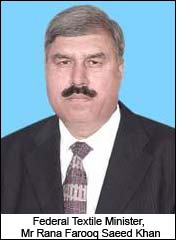 There is a need of research, development and training in the textile sector that could result in increasing exports and bring in billions of dollars of foreign exchange, said the Federal Textile Minister, Mr Rana Farooq Saeed Khan.

He was speaking at a ceremony to distribute certificates among the 70 successful women trainees who have completed their training under Stitching Machine Operator Training Program of Ministry of Textile at Export Processing Zone Authority (EPZA).

He said that the government at all costs wanted to avoid a shortage of skilled workers in the apparel manufacturing sector and the main objective of this program was to train a large number of skilled operators to provide support to the clothing sector.

The textile minister said that the government is seriously committed in supporting the textile industry as it is not only the largest foreign exchange earner for Pakistan but also the largest employment generator among all industry sectors.

He added by saying that, 60 percent of the remaining R&D fund would soon be released by Ministry of Finance to State Bank of Pakistan.