Smart/interactive clothing to be next area of growth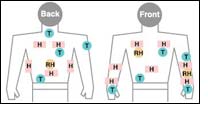 Smart/interactive textiles (SMITs) are a new type of textile technology. Conductive polymers are playing an important role as conductive fibers in the development of these SMITs for a broad range of applications. In the future, along with protecting the wearer, cloth or fabrics will also have intelligent built-in features, such as multifunctional sensors or computing devices.

Still in its nascent stage, electro textiles are projected to have a broad impact on the market for protective clothing, medical textiles and other applications foreseen in military, sports, medical, industrial as well as consumer products. SMITs are able to sense electrical, thermal, chemical, magnetic or other stimuli from the environment and adapt or respond to them, using functionalities integrated into the textile structure.

US military has been the leader in developing SMIT technologies and applications for such areas as body armor, artificial muscles, biochemical hazard protection, physiological status monitoring, location and embedded communications and computing. Several of these technologies have potential in civilian and commercial applications.

There are several different methods for obtaining electro-conductive fibers. One method is synthesis of conductive fibers similar to synthesis of conductive polymers. Despite the good conductivity of these fibers, they are not commonly used as conductive fibers in textile applications because their limited flexibility restricts application possibilities.

Another method is blending common nonconductive fibers with conductive polymer fibers. The advantage of this method is that the conductive yarns have the same mechanical properties as yarns fabricated from pure non-conductive fibers. Conductive polyaniline and traditional nylon or polyester fibers may be used in the production of mixed electro and nonconductive fibers.

A third method is the synthesis of fibers from polymers with a conductive carbon molecule inclusion. However this method also limits the mechanical properties of the fibers. Another method is metallization of fibers. Originally developed by researchers at the Georgia Institute of Technology and funded by DARPA (R&D arm of the US Department of Defense), the SmartShirt is a T-shirt-like garment that looks like and feels like soft ribbed cotton knit.

But the cotton and spandex cloth is interwoven with patented conductive fibers that can receive and transmit data from embedded sensors to a special receiver the size of a credit card. Heart rate, respiration and body temperature are calibrated and relayed in real time for analysis. The receiver stores the information and can transmit it for playback to a cell phone, home personal computer or a wrist-mounted monitor.

Textile engineering firm Sensatex, Inc's 'SmartShirt' technology integrates advances in textile engineering and wearable computing with wireless data transfer to permit the collection, transmission and analysis of diverse biometric data. It is a wearable physiological information management platform with the potential to have a deep impact on a diverse number of market segments requiring information and management of information generated from the human body.