Six Winter Olympic athletes to star in 'What's your Everest?'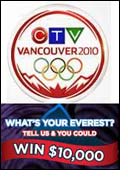 Champion Athletic Apparel, through a partnership with Universal Sports, has teamed up with six U.S. Winter Olympic athletes to star in a series of motivational videos that explore their dreams and goals by answering the question, "What's your Everest?"

Universal Sports will air the athletes' video vignettes now through the end of 2009 during its coverage of major winter sporting events on its broadcast channel carried by cable and satellite TV providers and on the UniversalSports.com Web site.

The symbolic Everest of luge veteran Ruben Gonzalez is to make his fourth Olympic Games. For downhill skier Tyson Bolduc, earning a pilot's license after the Games would put him on top of the world.

The Universal Sports video vignettes, which will reach 55 million households in major markets around the country, are part of Champion apparel's "What's Your Everest" marketing campaign and online community to support people in reaching their personal aspirations and goals.

Champion is partnering in a Mount Everest expedition in spring 2010, including outfitting the climbing team with innovative Champion and Duofold cold-weather gear, and has created an Expedition Champion Web site. Visitors to Champion's Everest Web site may enter the "What's Your Everest?" community by submitting a video or written entry answering the question for a chance to win $10,000. Visitors may also provide supportive feedback to the community members who have declared their personal Everest goals.

"Everyone has an Everest dream. The 'What's Your Everest?' program is the perfect complement to the Champion brand message about living an active lifestyle and striving for personal achievement," said Claire Powell, director of Champion apparel marketing. "Through these amazing Olympians, we want to engage the everyday athlete and provide an opportunity for one of them to achieve something they may feel is unattainable."

The Olympians Reveal Their Personal Mount Everests

The athletes - ranging from veterans to up-and-coming stars - will be competing in the 2010 Winter Olympic Games in Vancouver on behalf of the United States. The videos serve as a platform for the athletes to share their encouraging stories of personal growth and reveal surprising achievements that demonstrate the possibilities.

Luge veteran Gonzalez, an author and sought-after motivational speaker, shares his unique experience of recently qualifying for his fourth Olympic games. "My Everest is to compete in four Olympics in four decades," he declares.

Gonzalez's path to Olympic glory was unusual. He didn't believe himself to be a particularly gifted athlete. He took up the sport of luge at age 21, and by age 39 he was racing against 20-year-olds in the Salt Lake Games in 2002.

Skier Bolduc will compete in various downhill events this winter but has already achieved his personal Everest of winning a national title. His new Everest is a little outside of his Olympic skill set: to get a pilot's license that will allow him to experience what he calls helicopter skiing. "One day, I'd like to fly a helicopter to the top of a mountain with my friends, and ski down it," he states.