Medelita introduces Men's Lab Coat collection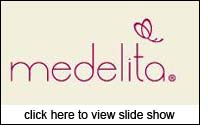 Medelita, maker of breakthrough medical apparel, announced the launch of its men's lab coats, which are on display at Medica 2009, a leading international trade fair for the medical industry held in Dusseldorf, Germany. Medelita inaugurates its men's collection with three varying lab coat styles, all named after distinguished figures in medicine: The Osler (44 in.), The Laennec (40 in.) and The Fleming (30 in.).

"Sophisticated, prestigious, innovative — these are words that medical professionals do not typically associate with lab coats," said Lara Manchik, founder, Medelita. "But with the introduction of Medelita Men's lab coats, male clinicians can now enjoy the same designer tailoring, high performance fabrics and upgrades that our female customers have raved about in our lab coats. The arrival of our men's line is a natural evolution and we are thrilled to bring a product to market that's long overdue."

All Medelita lab coats are hand sewn in the U.S. using 100 percent pre-shrunk cotton, representing a significant improvement over traditional polyester/cotton blend lab coats with limited breathability. The lab coats feature a modern tailored fit, with finished inside seams and advanced fabric technology for unparalleled soil, stain, fluid and wrinkle resistance. While each style of Medelita Men's lab coat is designed for a specific use, they are all available in contemporary menswear sizes 36-52.

The 44-inch Osler men's lab coat is the modern version of the classic, full-length lab coat. Featuring five total pockets, including a concealed pocket for a PDA or Smartphone, the Osler lab coat is named after Sir William Osler, MD, CM, a Canadian physician, pathologist, educator, bibliophile, historian, and author, who is described as the Father of Modern Medicine.

The 40-inch Laennec lab coat is Medelita's mid-length lab coat featuring abundant upgrades to this versatile physician lab coat. With a tailored, distinguished look and technically innovative features, this new men's lab coat was named for René-Théophile-Hyacinthe Laennec, a French physician who invented the stethoscope in 1816, while working at the Hôpital Necker and pioneered its use in diagnosing various chest conditions.

The 30-inch Fleming lab coat is a hip-length lab coat, often called a "consultation" or "student" length lab coat. The Fleming is named after Sir Alexander Fleming, a Scottish biologist and pharmacologist who published many articles on bacteriology, immunology and chemotherapy. He is best-known for receiving the Nobel Peace Prize for the discovery of penicillin, which he shared with two colleagues.

Just as athletes wear high-tech fabrics to achieve optimum performance levels, medical professionals deserve comfort, style and functionality that stands up to the rigors of their demanding workdays. Medelita delivers high performance and functionality while allowing for unrestricted movement, all-day comfort, and a crisp, confident, professional appearance.