WE WON! USAS signs historic agreement with Russell Athletic!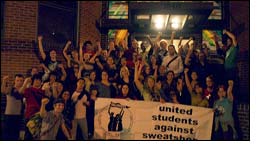 A sustained national student campaign led by United Students Against Sweatshops (USAS), that enlisted university pressure on apparel supplier Russell Athletic to reopen a plant it owned in Honduras that it had closed in order to avoid recognizing a union of its employees, has ended in an unprecedented victory for labor rights.

Spurred on by student activists on campuses all over the U.S., Canada and the U.K., ninety-six American universities, including the entire University of California system, most of the Big Ten and Ivy League schools, Duke, North Carolina, Miami, Georgetown, suspended or severed ties with Russell Athletic, a major supplier of college logo t-shirts and sweatshirts.

The students and their universities based their stance on the conclusion of an in-depth, on-site investigation of the plant closing by the Worker Rights Consortium (WRC), the investigative labor rights watchdog with which 175 American universities and colleges are affiliated and which USAS helped found earlier this decade. The WRC concluded that Russell's decision to close the plant was clearly intended as a measure to avoid allowing its workers to organize a union, a clear violation of the WRC's and the universities' codes of conduct for suppliers.

Russell Athletic, owned by Fruit of the Loom, a Berkshire-Hathaway portfolio company, closed its Jerzees de Honduras factory, January 30, 2009 after months of battling with a union that had organized its workers. Unlike other major apparel brands, Russell/Fruit of the Loom owns all eight of its factories in Honduras rather than subcontracting to outside manufacturers. The company is the largest private employer in Honduras.

Last Saturday, after nearly two years of student campaigning in coordination with the apparel workers, the Honduran workers' union concluded an agreement with Russell that puts all of the workers back to work, provides compensation for lost wages, recognizes the union and agrees to collective bargaining, provides access for the union to all other Russell apparel plants in Honduras for union organizing drives in which the company will remain neutral.

"This is the first time we know of where a factory that was shut down to eliminate a union was later re-opened after a worker-activist campaign. This is also the first company-wide neutrality agreement in the history of the Central America apparel export industry – and it has been entered into by the largest private employer in Honduras, the largest exporter of t-shirts to the US market in the world. This is a breakthrough of enormous significance for the right to organize – and worker rights in general – in one of the harshest labor rights environments in the world," said Rod Palmquist, USAS International Campaign Coordinator and University of Washington alumnus.

"Thanks to the rules we struggled to put in place at our universities, our Russell victory shows when workers fight for their rights and students take action on campus, we can achieve incredible results." – Ella Torti, University of Montana, Senior (class of 2010), biology major.