Global Grind ties up with streetwear retailer Karmaloop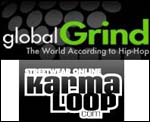 Global Grind, the premier online destination for celebrity entertainment, hip-hop, and youth culture, and Karmaloop, the world's leading streetwear retail website, have announced a unique partnership. One that includes the creation of a co-curated online retail store to launch on Wednesday, November 25th on the Global Grind website as well as a powerful content syndication/collaboration deal, it was announced by Russell Simmons, Founder, GlobalGrind and Greg Selkoe, Founder and CEO, Karmaloop.

The partnership represents the combined vision of two leading cultural influencers, Russell Simmons with his Global Grind platform and Greg Selkoe with Karmaloop/KarmaloopTV, his streetwear and cultural e-commerce destination. It is a meeting of the minds around a shared vision of where young America is taking the country: away from rigidly defining themselves by race, ethnicity, or musical genres and toward a "new America" were people are grouped by shared ideas and values. The first generation to grow up with the internet is coming of age and their style and tastes are as eclectic, blurred, and fast moving as the cut and paste DIY culture of the world-wide web that has nurtured them.

The Global Grind Fashion channel will appeal to the style and sensibilities of this powerful new American youth culture and will be one of Global Grind's seven primary channels. Global Grind will provide exclusive and curated content to the channel with Karmaloop providing the e-commerce background as well as some content from their online video site KarmaloopTV.com. Global Grind's editors have worked with Karmaloop to select the top designers/brands to be featured in the retail section of the Global Grind Fashion channel.

"I am excited about promoting the next generation of designers to a new and powerful demographic of sophisticated, progressive and style-forward consumers who see no boundaries to their aspirations and reject the old barriers of race, color or ethnicity. I built Global Grind to be the communication hub for this community and I am thrilled to be working with Greg and the Karmaloop team to bring cutting edge new designs to this new American mainstream," says Simmons.

"Karmaloop has identified an important and rapidly growing demographic we call Verge Culture," says Selkoe. "Like hip-hop culture which has been a major influence, Verge Culture refuses to be defined by race or ethnicity, they are from many backgrounds but form one culture. This generation sees America the way the U.S. Census Bureau predicts America to be by the year 2042 where no single racial or ethnic group dominates. The young tastemakers ushering in the new America are highly creative, stylish, and socially conscious; hustle, innovation, and drive are celebrated. My partnership with Russell and Global Grind will help to promote this new American youth culture around the world."

Some of the brands included in the Global Grind/Karmaloop store include Crooks & Castles, Alife, Married to the Mob, and Hellz Bellz. The content will include exclusive interviews, blogs, fashion shows, photo galleries, and other content.