Largest wearable dress with 24,000 full color LEDs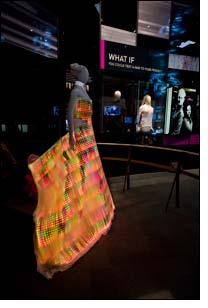 The Galaxy Dress is the center piece of the "Fast Forward: Inventing the Future" exhibit at the Museum of Science and Industry in Chicago. The museum is celebrating its 75 years and has commissioned the GalaxyDress for their permanent collection.

The GalaxyDress provides a spectacular and mesmerizing effect being embroidered with 24000 full color LEDs, it is the largest wearable display in the world. The GalaxyDress uses the smallest full-color LEDs which are flat like paper and measure only 2 by 2 mm.

The circuits are extra-thin, flexible, and hand embroidered on a layer of silk in a way that gives it stretch, so the LED fabric can move like normal fabric with lightness and fluidity. To diffuse the light there are 4 layers of silk chiffon that moves really beautifully as well. The extra-thin electronics allows the design to follow the body shape closely like with normal fabric.

The GalaxyDress is designed to work with a number of iPOD batteries so that the wearer can walk around (should last about 30 minutes). The GalaxyDress does not overheat and consumes very little electricity thanks to the LED technology used.

The GalaxyDress is lightweight, the heaviest part is not the technology but the 40 layer pleated silk organza crinoline that makes the skirt wide. The areas without LEDs are decorated with more than 4000 hand-applied swarovski crystals that make a gradient from clear crystal to bright pink, so the dress looks good also when it is switched off.

CuteCircuit is a fashion company based in London that designs interactive clothing and is the one that designed the GalaxyDress. CuteCircuit products are innovative intelligent clothing that integrate new functionalities into fashion through the use of smart textiles and micro electronics.

CuteCircuit is the first company to merge wearable and telecommunication technology to create emotionally rich experiences for users in the fashion, sport and communication industries.

One of Cute Circuit's products, the Hug Shirt, was honored as one of the Best Inventions of The Year by Time Magazine. This same product was also awarded the First Prize at Ciberart Festival in Bilbao, Spain.

CuteCircuit work is frequently featured in books on design, art and innovation, publications include: World Changing, Fashioning the Future, Smart Materials in Design, Fashion and Architecture, Sex Design, and Designing for Interaction.

Many of CuteCircuit products have also been published on magazines and newspapers worldwide, such as TIME Magazine, ELLE, Design Matters, Stuff, WIRED, The Daily Telegraph, The Times, the Financial Times, and CNN.

CuteCircuit was featured in the special issue on the American Avant Garde by Surface Magazine. The recent book Fashionable Technology, prominently features all of CuteCircuit's work to date.

Interviews with founders Francesca Rosella and Ryan Genz have been featured on Discovery Channel International, National Geographic Television, BBC World Technology, BBC Live at Five, BBC Go-Digital, National Japanese Television.