Bodyfashion Trendbook holds forth on versatility of Nilit yarns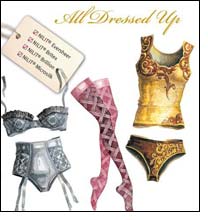 NILIT announced its new trend concepts for bodywear and active-sports wear for Fall-Winter 2011-2012 which will be presented in the NILIT BODYFASHION TRENDBOOK.

Faced with pressing environmental and socials challenges in today's world, a new creative energy is emerging from the global economic crisis. There is no time to waste when it comes to redefining products and reassessing the conventional framework in which we have been thinking. Crises may challenge us, but at the same time they open windows of opportunity for change. In these difficult times, what buttons can we press to achieve success? Remaining one step ahead is the goal and innovation is the key.

Let Nilit's wide variety of state-of-the-art yarns become your dynamic partners in creativity and inspire you to meet the challenge to reinforce your product's value by using an approach focused on innovation.

Nilit's innovative power and commitment to quality sets the standard for nylon 6.6 performance yarns world-wide. Nilit's unique combination of consistent customer orientation and leadership in innovation and technology is the corner-stone of its success.

ECO-DESIGN, SENSUAL LUXURY, COLORFUL FLEXABILITY, DYNAMIC VERSATILITY, WELLBEING & COMFORT and ENVELOPING PROTECTION are today's mega-trends which inspire yarn technology and innovation. The NILIT Trendbook recommends the yarns needed to create the dynamic products which will lead the fashion trends for the coming season.

BODYWEAR TRENDS:
The Trendbook defines three BODYWEAR trends for FALL-WINTER 2011-12 and highlights the yarn innovations best suited to these trends:

COUNTRY LANDSCAPE (ECO-DESIGN) A traditional rustic look conjures a landscape of limitless combinations of unusual mixes of color and natural textures inspired by the English Countryside.

An essential challenge today is to respond to environmental concerns and the future of the planet by finding a way to fuse protection, well-being and ecology. To meet the global awareness of eco-friendly processes and create deep uniform colors, products are created using NILIT EcoCare recycled yarns.

ALL DRESSED UP (SENSUAL LUXURY) A mood of fantasy inspires a glamorous haute couture style focused on body-fitted shapes and made from luxurious and sophisticated fabrics.The Couture spirit meets technology! Super-stretch second-skin fabrics in a sensual lingerie mood have a smooth silky hand that provides high luster and a luxurious touch. The timeless elegance of satin and damask is created using NILIT Britex yarn.

INSIDE OUT (COLORFUL FLEXABILITY) Cool and trendy bodywear worn with audacious streetwear chic is a wild fusion of grunge aesthetics, funky graphic motifs and daring mixes of colors and textures. Worn to be seen, high-energy bodywear is made for action and worn with irresistible spontaneity. Inventive and daring color combinations created from NILIT Colorwise yarn go hand in hand with performance functions and flexibility.